Greek American Documentaries and Visual Programming (1980s): A Filmography
Keywords: Greek Orthodox Telecommunications; Ethnic Success and Beyond Success; Documentaries and Visual Programming [mostly 1980s; 1990, and 1999]; Yannis Simonides; Women; Artists; Educators; Politicians; Lobby; Media; Medea; AHEPA; Traditions and Customs; Hellenism and Orthodoxy.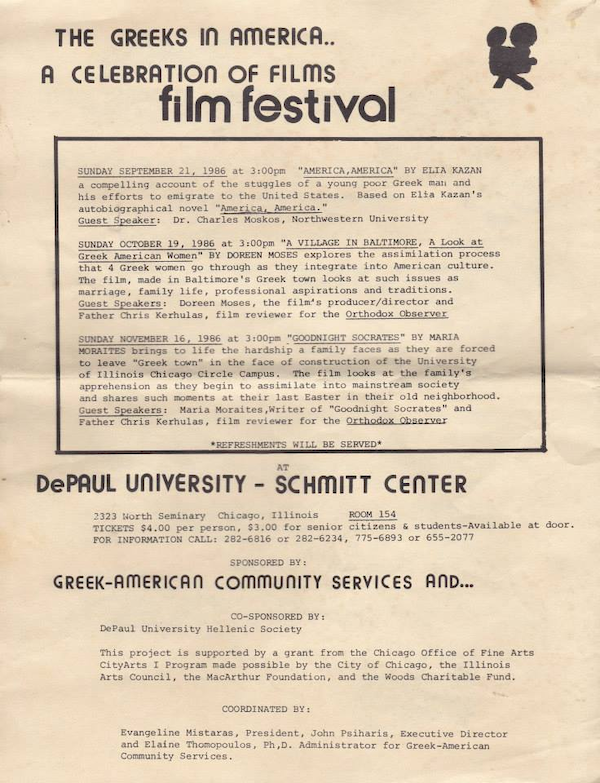 FROM DOLMADES TO DUKAKIS. Individual and Collective
Roles of Greek Americans and Their Contributions to
American Society (Illuminations, Greek Orthodox Telecommunications, 1990) (available Sacramento State University Library).
Ever since their arrival to this country, Greek immigrants have continuously experienced both struggles and successes as individuals and as an ethnic group. But with our success in American society and our ongoing acculturation we must realize that our very ethnic identity is perhaps in jeopardy. Guests Alice Scourby, Professor Charles Moskos, and Reverend Alexand Karloutsos discuss our evolution in America, our successes and failures, and address the problems of our seemingly declining cultural identity as the Greek American community looks ahead the 21st century. (color) (English) (29 min.)
BEYOND DINERS & SHIPS: The Corporate Greek American
Greek Americans have always been successful in business—either in single proprietorships such as diners and flower or in highly personal enterprises such as shipping. Now more than ever it is not uncommon to see Greek Americans rise to highest levels in the corporate sector. Guests Dr. Alceste and John Veronis discuss the role of the Greek American in business and how that activity relates to their ethnic value identity. (color) (English) (29 min.)
EUREKA! Greek Americans in Science
Building upon ideas originating in North Africa and the Near East the ancient Greeks developed the foundations of modern science in both methodology and in specific discoveries. In today's America the traditions of the ancient Greeks as scientists a maintained by Greek Americans in all scientific fields. Dr. Pappas, Dr. Elias Gyftopoulos, Medical Dr. George Bousvaros, and Psychologist Dr. Afrodite Clamar discuss the history and the present roles of Greek American scientists, and the challenges they face in the international arenas. (color) (English) (29 min.)
THE PRIMACY OF LEARNING: Profiles of Greek American Educators
Greeks have always regarded education as a necessary part of human development. According to an article in The New Republic based on U.S. Census data, Greek Americans "are the best educated ethnic group bar none." Our educators have been entrusted with an enormous responsibility—that of ensuring children's future through education. But drugs, violence, and other problems that abound in our public schools and thwart a teacher's best efforts. Educators on this program are Nation Teacher of the Year 1989—Mary Bicouvaris, Dr. Fotios Litsas Dr. Spyros Orfanos. (color) (English) (29 min.)
DESCENDANTS OF A GOLDEN AGE: Profiles of Greek American Artists (Illuminations, Greek Orthodox Telecommunications)
Recognized and honored by American society, the four guests of this program have chosen to stay close to their Hellenic role [?]. Often their heritage has manifested itself in the characters portray, the music they compose, the stories they write, and works of art they produce. Guests–author Nicholas Gage, New Age composer Yanni, Actor Spiros Focas, and Public Sculptor Athena Tacha—discuss their individual achievements, the relationship between their work and their Hellenic heritage, the way American society has come to regard Greek American artists. (color) (English) (29 min.)
YOU CAN EVEN RUN FOR PRESIDENT: Greek Americans in Politics
Since ancient times, Greeks have continued to consider polit essential to civilized life. In America, we have exhibited traditional national passion for politics ever since arriving numbers in the early 1900's. Although a relatively small ethnic group, Greek Americans have been elected to public office at [high?] level; most recently there has even been a nomination for el[?] to the highest office in the land. Honored guests on this program include—Governor Michael Dukakis, former Mayor of Lincoln, Nebraska, Helen Boosalis, and Senator Paul Sarbanes. (color) (English) (29 min.)
OF LOBBYISTS AND LAWMAKERS: The Greek American Presence in Washington
Lobbies are often thought of as representing "special interests" but there are also lobbies for public health, for children, for education, for environment, and for peace. All lobbyists see[?] bring detailed analyses to lawmakers contemplating legislation identify "friends and enemies" of their constituency, and to government and mass media of the complex impact of a specific policy or piece of legislation. The Greek American lobby has addressed issues from Cyprus to Arms to Turkey to oil drilling rights in the Aegean. Guests Andrew Manatos, Peter Marudas, and Michael Jaharis, Jr. discuss the "Greek lobby" and the ge[neral?] process of influencing federal politics and lawmaking. (color) (English) (29 min.)
SUPERWOMAN REVISITED: The Changing Roles of Greek American Women (Illuminations, Greek Orthodox Telecommunications).
Today's Greek American women face many of the same problems as other women in American society, but they have the addition hardship of overcoming the stereotypical roles of Greek women. This program examines the status and the changing roles of Gr American women, discusses their struggles and achievements, and looks at what the future holds for them. Our guests, Bar Spyridon-Pope, Assistant Secretary of the Navy, authors Constance Callinicos and Eva Catafygiotu Topping, and former National Philoptochos President Dionisia Ferraro, come from diverse backgrounds and fields and make for an informative discussion (color) (English) (29 min.)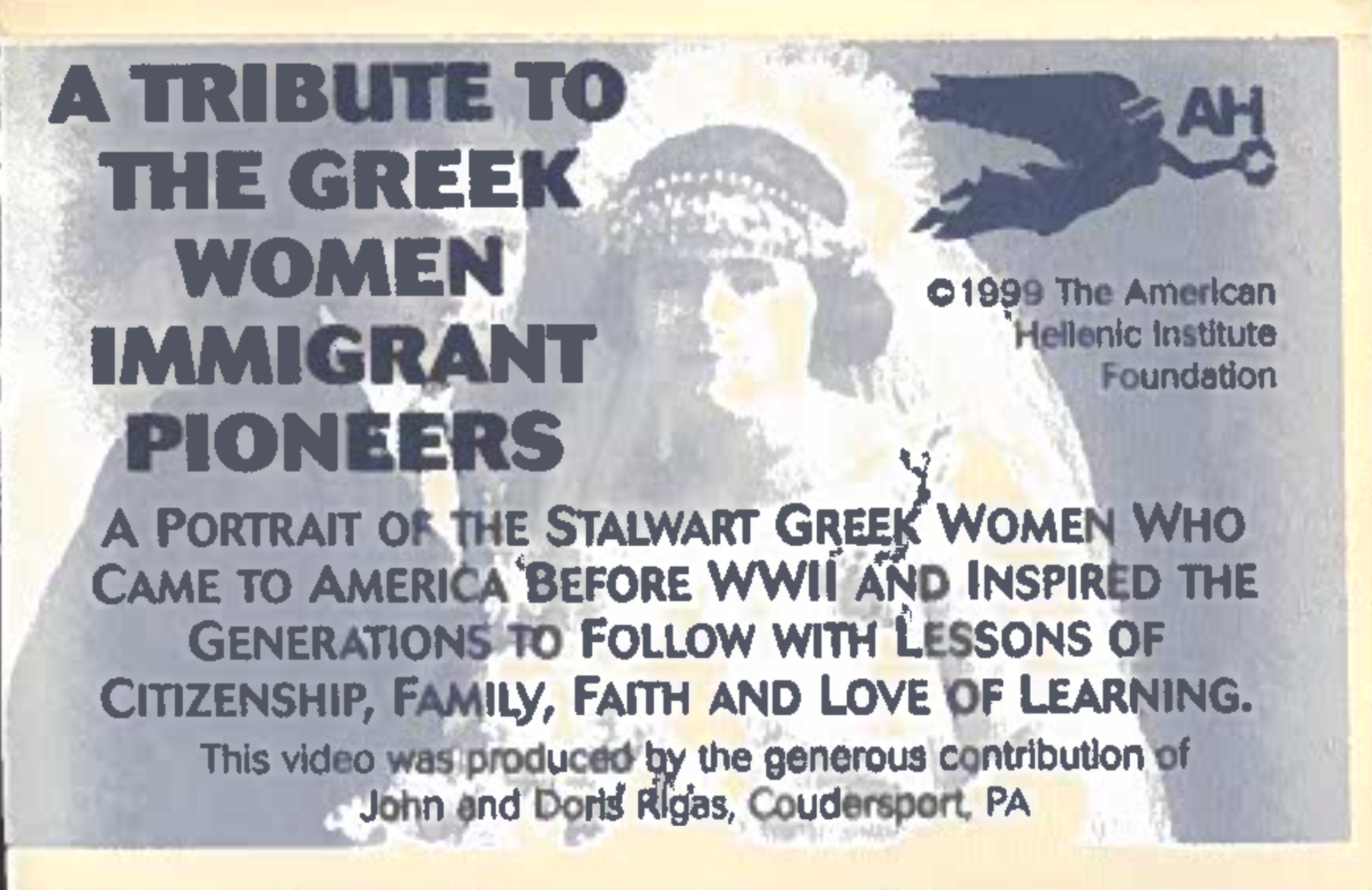 A Tribute to the Greek Women Immigrant Pioneers (Videocassette, The American Hellenic Institute Foundation, 1999). (Yiorgos Anagnostou personal archive) (Commercially available at Cosmos Publishing Co., Inc.)
ON THE WINGS OF HERMES: Greek Americans and the Media
Greek Americans have a plethora of media to choose from. In addition to the usual American publications, television, film radio, there are ethnic variations of all, in both Greek and [?] Too, there has been a growing Greek American presence in both the talent and managerial side of all mainline American mass communication carriers. How an ethnic community best serves itself in media options, and the responsibility of Greek and Americans in the media to their various constituencies, are that our guests discuss. They are correspondents Ike Pappas, Alexandra Spyridaki, and Editors Chrysanthos Lazarides and Pet Pappas. (color) (English) (29 min.)
WHEN CAN WE WALK HOME? The Cyprus Issue
What has become of the Cyprus issue? Greek and Cypriot Americans have allowed their once vigilant efforts to lessen dawn of our new decade has brought sweeping changes throughout the world. If the Berlin Wall can fall, why can't the Green [?] lifted? Our guests, Dr. Gary Vikan, Effie Lekas and Andrew Manatos have all been directly involved in efforts to clarify [and?] resolve the issues emanating from the Cyprus problem and will offer possible answers to the many questions surrounding this issue. (color) (English) (29 min.)
A GREEK HARVEST: The Hellenic Diaspora in America (Illuminations, Greek Orthodox Telecommunications)
For millennia, in good times and in bad, voluntarily and throughout forceful removal, Greeks have left their homeland to settle other parts of the worlds: The United States, Europe, Australia, Canada and various nations of Asia, Africa and South America. These new Greek communities preserved the values of Hellenism while interacting with the cultures of new neighbors. But, [in?] America the assimilation into the mainstream is so rapid, that soon there may be left no Greek Diaspora to be harvested. Guests––Dr. John Brademas, President of New York University talent agent Renee Pappas, and publisher Ari Caratzas discuss ways of nurturing the Greek Diaspora in order to keep it alive (color) (English) (29 min.)
A COMMUNITY FLAGSHIP: AHEPA
One of the most important and certainly the largest Greek American secular organization is the AHEPA. In the past, AHEPA worked to ease the transition of immigrants into America, to preserve Greek culture into the United States, and to make Greek culture better known to the general American public. In recent years AHEPA has shifted more towards philanthropic areas. Guests—Supreme President Charles Tsaffaras, Grand President [?]. Daughters of Penelope Julia Constantine, and past Supreme President Nick Smyrnis review the history of AHEPA, its recent achievements and the challenges of the 1990s. (color) (English) (? min.)
BEYOND SUCCESS: The Issues, Concerns & Challenges Facing the Greek American Community (Greek Orthodox Telecommunications, 1990) (available Sacramento State University Library).
We Greek Americans are not only faced with the same problems that haunt the rest of American society, but we have our own unique problems as well. On a community level, we must accept the possible loss of our cultural identity if we fail to act immediately. On a broader scale, as part of mainstream America we can no longer ignore the fact that some of our families do become involved in crime, drugs, or other catastrophic situations. Our guest include State Supreme Court Judge Yorka Linakis, author Helen Papanikolas, Michael Jaharis, and writer Dan Georgakas. (color) (English) (29 min.)
One on Every Corner: Manhattan's Greek-owned Coffee Shops (Washington, D.C.: Icon Films, 1984)
Portrays Greek-owned and operated coffee shops and restaurants in Manhattan, focusing on their strategies for success and their attitudes toward patrons. Includes views of employees and patrons. Also shows the assimilation of immigrants in America.
GREEK INDEPENDENCE DAY
The March 25th celebration is examined from both an ethnic and religious perspective. This beautiful film chronicles the War Independence and profiles the heroes of the Revolution and the Philhellenes, such as Lord Byron, whose loyalty in Greece was unwavering. Several scholars comment on the 400 years of Ottoman rule, the Greek struggle for freedom, and the remarkable similarities between the Greek and American quests for independence. (color) (English) (29 min.)
"IN WISDOM LET US ATTEND": Hellenism & Orthodoxy Today in Constantinople & Asia Minor. November and December, 1987.
Under the sponsorship of the Order of Saint Andrew, and in joint venture with cultur[?] Sat[?] of Washington, D.C., a television production team traveled to Constantinople and Rome to produce a documentary on the Ecumenical Patriarch and Patriarchate. This videocassette presentation offers a sampling of the more than fifty hours of videotape recorded on this mission during the annual pilgrimage to Constantinople and Myra sponsored by the Order of Saint Andrew and the Greek Orthodox Ladies Philoptochos Society. Filmed during and around the celebratory ceremonies for the recent reconstruction of the central Patriarchal building, the documentary focuses of the role of the Ecumenical Patriarchate the orthodox Christian world today, and its mission for the f[?]. (color) (English) (13 min.)
RELIGION AND ETHNICITY (Illuminations [Greek Orthodox Telecommunications?], Producer: Yannis Simonides. Circa: 1987. A Panel Discussion. DVD.) (Available at the Archive of Alice Scourby, The Long Island University Archives).
A look at the "dual forces" that define Greek Orthodoxy in the context of our modern lives, our ethnic roots and religious traditions. Rev. Ilia Katre, Dr. Alice Scourby and Prof. Alexander Kitroeff examine both the harmony and discord that exists between these two guiding elements. Interfaith marriages and their religious impact on future generations, English vs. Greek church services, and the possibility of "American Orthodoxy" also discussed. (color) (English) (29 min.)
THE MEDEA OF EURIPIDES
The New York Greek Drama Company brings you a Medea as true to the original Athenian experience as modern scholarship can allow. Indeed, it is the only one of its kind that exists. Incorporating the latest in classical research, the production completed a successful professional run in New York before be[ing?] specially adapted to video. As with Euripides' original it f[orms?] an amalgam of music and dance, costuming and stage scenery, a chorus, two actors with masks and mimetic acting. The text is performed in the full melodious intonation of ancient Greek poetry, with English subtitles. The Greeks knew drama as a fusion of poetry, music and dance. Modern versions of the classics invariably break down the cohesion of the original, divorcing the drama from its poetry and the poetry from its inherent music. The effect is akin to rendering Shakespeare prose. In this production, the New York Greek Drama Company attempts to restore the balance, reinfusing the pulse of poetry into the drama of Greek Tragedy. Set off against the rich and stylized production values that Athenians demanded, the verbal music of ancient Greek poetry delivers a thrust to the drama the Medea which a mere translation can never equal. (color) (Greek) (120 min.)
THE TWELVE DAYS OF CHRISTMAS: CHRISTMAS
TRADITIONS AND CUSTOMS
Examines Greek Orthodox holiday customs and traditions. Interviewees, from all parts of Greece, Cyprus, and the U.S. detail individual Christmas celebrations and recall the Greek "Kalanda," traditional foods, and fables that are part of the holiday. Includes a special Christmas celebration at an immi[grant?] home. (color) (English) (29 min.)
Yiorgos Anagnostou, Research and Compilation
Editor's Notes
(1) An analysis of the above cultural programming will yield valuable insights regarding the issues that were raised, the questions posed, and the answers given in intracommunity discussions in the 1980s. (Also about the style of the exchange.) Of course, the archive in itself demonstrates the existence of a public conversation (and even debate) during that decade. Seen from today's vantage point, we can also reflect on the ways in which institutions responded on the affairs brought into public attention. The question also of how this mode of public engagement developed (or not) is worth considering.
(2) For additional documentaries (many commercially available) see here.
(3) For the American Playhouse My Palikari (PBS, TV series, 1982) see The Paley Center for Media.