Refocusing Modern Greek Studies
by Prof. Dan Georgakas
Keywords: Dan Georgakas; The National Herald; U.S. Modern Greek Studies; Ethnic Community and Modern Greek Studies Programs; Greek American Cultural Survival; Greek American Studies; Diaspora Studies; Comparative Ethnic Studies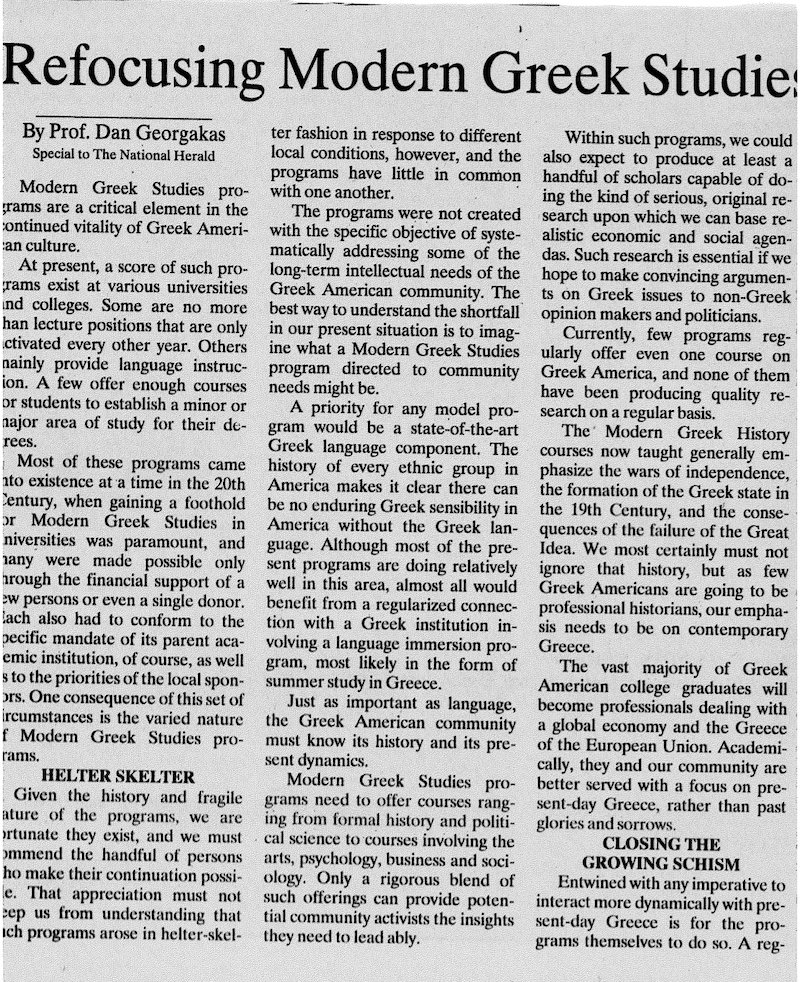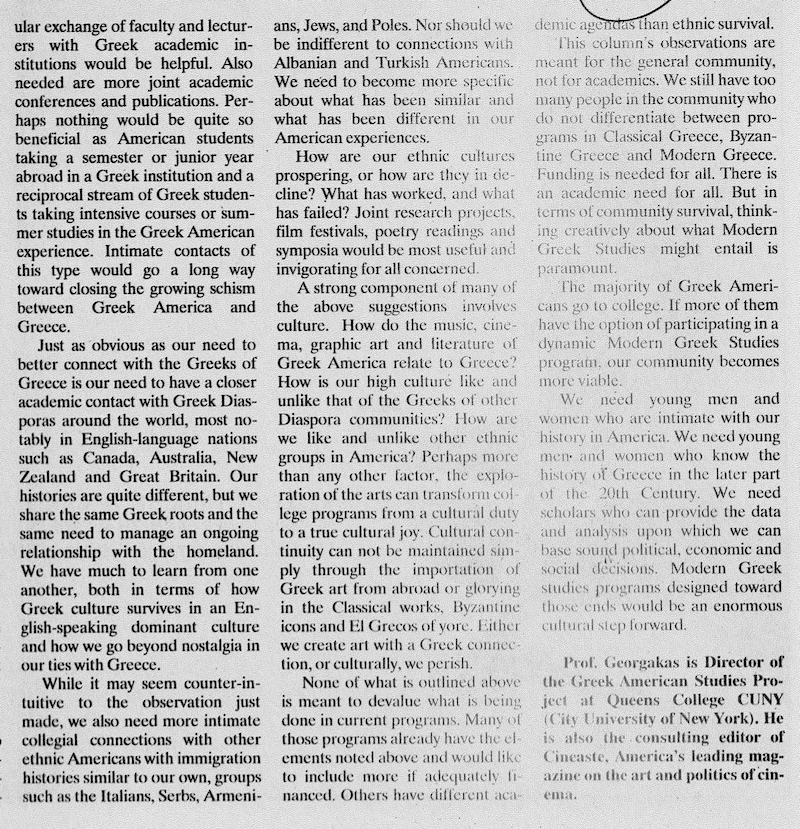 Modern Greek Studies programs are a critical element in the continued vitality of Greek American culture.
At present, a score of such programs exist at various universities and colleges. Some are no more than lecture positions that are only activated every other year. Others mainly provide language instruction. A few offer enough courses for students to establish a minor or major area of study for their degrees.
Most of these programs came into existence at a time in the 20th Century, when gaining a foothold for Modern Greek Studies in universities was paramount, and many were made possible only through the financial support of a few persons or even a single donor. Each also had to conform to the specific mandate of its parent academic institution, of course, as well as to the priorities of the local sponsors. One consequence of this set of circumstances is the varied nature of Modern Greek Studies programs.
HELTER SKELTER
Given the history and fragile nature of the programs, we are fortunate they exist, and we must commend the handful of persons who make their continuation possible. That appropriation must not keep us from understanding that such programs arose in helter-skelter fashion in response to different local conditions, however, and the programs have little in common with one another.
The programs were not created with the specific objective of systematically addressing some of the long-term intellectual needs of the Greek American community. The best way to understand the shortfall in our present situation is to imagine what a Modern Greek Studies program directed to community needs might be.
A priority for any model program would be a state-of-the-art Greek language component. The history of every ethnic group in America makes it clear there can be no enduring Greek sensibility in America without the Greek language. Although most of the present programs are doing relatively well in this area, almost all would benefit from a regularized connection with a Greek institution involving a language immersion program, most likely in the form of summer study in Greece.
Just as important as language, the Greek American community must know its history and its present dynamics.
Modern Greek Studies programs need to offer courses ranging from formal history and political science to courses involving the arts, psychology, business and sociology. Only a rigorous blend of such offerings can provide potential community activists the insights they need to lead ably.
Within such programs, we could also expect to produce at least a handful of scholars capable of doing the kind of serious, original research upon which we can base realistic economic and social agendas. Such research is essential if we hope to make convincing arguments to non-Greek opinion makers and politicians.
Currently, few programs regularly offer even one course on Greek America, and none of them have been producing quality research on a regular basis.
The Modern Greek History courses now taught generally emphasize the wars of independence, the formation of the Greek state in the 19th Century, and the consequences of the failure of the Great Idea. We mostly certainly must not ignore that history, but as few Greek Americans are going to be professional historians, our emphasis needs to be on contemporary Greece.
The vast majority of Greek American college graduates will become professionals dealing with a global economy and the Greece of the European Union. Academically, they and our community are better served with a focus on present-day Greece, rather than past glories and sorrows.
CLOSING THE GROWING SCHISM
Entwined with any imperative to interact more dynamically with present-day Greece is for the programs themselves to do so. A regular exchange of faculty and lecturers with Greek academic institutions would be helpful. Also needed are more joint academic conferences and publications. Perhaps nothing would be quite so beneficial as American students talking a semester or junior year abroad in a Greek institution and a reciprocal stream of Greek students taking intensive courses or summer studies in the Greek American experience. Intimate contacts of this type would go a long way toward closing the growing schism between Greek America and Greece.
Just as obvious as our need to better connect with the Greeks of Greece is our need to have a closer academic contact with Greek Diasporas around the world, most notably in English-language nations such as Canada, Australia, New Zealand and Great Britain. Our histories are quite different, but we share the same Greek roots and the same need to manage an ongoing relationship with the homeland. We have much to learn from one another, both in terms of how Greek culture survives in an English-speaking dominant culture and how we go beyond nostalgia in our ties with Greece.
While it may seem counter-intuitive to the observation just made, we also need more intimate collegial connections with other ethnic Americans with immigration histories similar to our own, groups such as the Italians, Serbs, Armenians, Jews and Poles. Nor should we be indifferent to connections with Albanian and Turkish Americans. We need to become more specific about what has been similar and what has been different in our American experiences.
How are our ethnic cultures prospering, or how are they in decline? What has worked, and what has failed? Joint research projects, film festivals, poetry readings and symposia would be most useful and invigorating for all concerned.
A strong component of many of the above suggestions involves culture. How do the music, cinema, graphic art and literature of Greek America relate to Greece? How is our high culture like and unlike that of the Greeks of other Diaspora communities? How are we like and unlike other ethnic groups in America? Perhaps more than any other factor, the exploration of the arts can transform college programs from a cultural duty to a true cultural joy. Cultural continuity can not be maintained simply through the importation of Greek art from abroad or glorying in the Classical works, Byzantine icons and El Grecos of yore. Either we create art with a Greek connection, or culturally, we perish.
None of what is outlined above is meant to devalue what is being done in current programs. Many of those programs already have the elements noted above and would like to include more if adequately financed. Ohers have different academic agendas than ethnic survival.
This column's observations are meant for the general community, not for academics. We still have too many people in the community who do not differentiate between programs in Classical Greece, Byzantine Greece and Modern Greece. Funding is needed for all. There is an academic need for all. But in terms of community survival, thinking creatively about what Modern Greek Studies might entail is paramount.
The majority of Greek American go to college. If more of them have the option of participating in a dynamic Modern Greek Studies program, our community becomes more viable.
We need young men and women who are intimate with our history in America. We need young men and women who know the history of Greece in the later part of the 20th Century. We need scholars who can provide the data and analysis upon which we can base sound political, economic and social decisions. Modern Greek studies programs designed toward those ends would be an enormous cultural step forward.
Published in The National Herald, 12 March, 2005, p. 11.
Note: Transcription by the editor.