Dan Georgakas: Working Across Differences
by Steve Frangos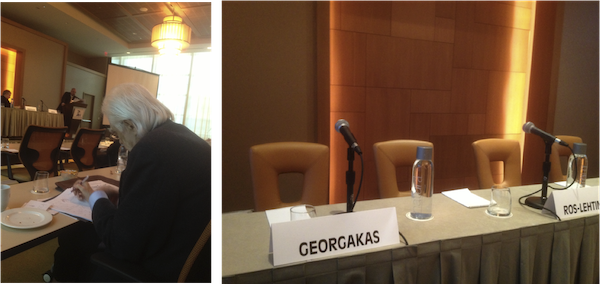 On November 23, 2020, with the death of Dan Georgakas, a very specific chapter in Greek American history has also come to an abrupt conclusion. Georgakas was the last of a special cadre of Greek American scholars. This informal collective included Helen Zeese Papanikolas, Andrew T. Kopan, Charles C. Moskos, Jr., Eva Catafygiotu Topping, and Alexander Karanikas. Aside from their individual dedication to Greek American studies which included original scholarship, a stream of articles by each author, establishing archival collections and public speaking, this group were also all children of Greek immigrants connected with the early mass waves (1880–1920) of Hellenic arrivals to American shores. Direct personal experience with this generation of immigrants backgrounded their enduring commitment to this as yet unrecognized field of study.
Dan Georgakas' role within this group was always considerable, to say the least. His own intellectual depth—reflected in a seemingly unending series of publications, establishment of archival collections, public speaking events and life-time involvement in progressive politics—was always backgrounded by what can only be called personal charm and humor.
As an intellectual Georgakas spanned radically different intellectual, political and cultural differences. His central contribution, in my estimation, was the unfailing ability to bring together different individuals from vastly different disciplines, politics and social standing together in a common cause. Bluntly stated, Georgakas was one of the few, if not the only, individual(s) who consistently brought Greek intellectuals and Greek American academics together for any practical purpose.
While others may disagree, I would content that Georgakas' life-long involvement in what in America would be viewed as radical politics, his spoken Greek, and his lifetime of writings (with special emphasis on his poetry) all lead to his leading role as an editor (and frankly "fixer" status) who could bring together writers who under most circumstances would never meet. All this was no easy task. I can think of no other individual who bridged as many differences as Georgakas.
For Georgakas, all of this bringing together of others wasn't work or a hardship in any sense whatsoever. He was the type of individual one rarely meets. There were no hidden agendas. Common cause, establishing fellowship and frank joy in daily life were undeniably at the center of all his actions. Since it was Georgakas who was proposing some event or publication over time, he enjoyed a type of "fixer" status no one else in Greek America could claim. Or will any ever claim, I strongly suspect.
Another reality that must be acknowledged is that Georgakas experienced a special relationship with Greek intellectuals recently arrived in Ameriki. His unquestioned language ability and lifetime of "credentials" in politics did not simply match those of Greek-born intellectuals; his body of public work and personal direct involvement in American left politics throughout his life exceeded that of the vast majority of the newcomers. In this last regard, Georgakas, it must be stressed, also knew how to "work" the system. For years he was the recipient of grants and other awards to attend the annual Thessaloniki Film Festival. He then drew upon this experience to bring Greek films to the United States.
Secondarily, this annual "professional" visit simultaneously provided Georgakas with the opportunities to maintain cultural, linguistic, political, and personal contacts in Greece that few others living full-time in Ameriki could claim. Plainly stated, Dan was street smart. He rarely, if ever, missed a cultural step. Directly through his publications or in the forefront of political protest events he attended (and often helped to organize) Georgakas never stopped his personal expressions of "direct action."
Turning "the system" on itself was also never far from his daily cycle of events. For many years Georgakas invested in the stock market and owned property. But once again, with the direct intent of using such investments or property to help others in his constant efforts to subvert the existing social systems. No corner was too small to strike a blow. Years ago, utility companies used to provide the return envelopes with the announce printed where a stamp would normally be attached that the return would be paid by the utility company. Dan would make his prescribed payment but then also stuff each return envelope, which was billed by its weigh, with as much radical left literature as would fit.
As future scholars will no doubt discover, Dan's sense of humor and recognition of the absurd seen in the newspaper installments of his biography were removed from his final biographical compilation. I spoke to him about these omissions. His take, upon reflection, was that such moments—while all true—would detract from the volume's ultimately serious intentions. I would argue that something of the depths of this man can be seen in these small acts and daily activities.
The world at large was Dan Georgakas' main concern. Yet this individual never forgot his origins. As a consequence even the most cursory view of any Greek American journal issues, readers or edited volumes from the 1970s onwards—spanning print to electronic mediums—owe much to this one singular individual.

Steve Frangos was born in Evanston, Illinois on December 15, 1951. All four of his grandparents hail from small mountain villages in the Peloponnesus. Frangos holds a Master's degree in Anthropology from Indiana University (Bloomington). "The Greek-American Family: Continuity Through Change," was Frangos' first museum exhibition that opened in Grand Rapids, MI and then toured the nation for eight years. Since 1980, Frangos has worked on a series of similar Greek American museum exhibitions in Chicago, the St. Photios Shrine and elsewhere around the country. Throughout his career Frangos has strongly advocated for the preservation of Greek American historical materials. In the course of his fieldwork among Greeks in the United States, Frangos has deposited all manner of original artifacts, photographs, 78rpm records, oral history interviews and original print documents that all report upon the Greek American experience in North America. He is the author of the Greeks in Michigan volume for the Discovering the People of Michigan series (Michigan State University Press, 2004). Overall, Frangos has written on the Greek experience in North America in journal articles, newspaper accounts, archival newsletters, and in books of collected essays. His latest group of essays can be found in Greek Music in America (University of Mississippi Press, 1981). As a feature writer Frangos has appeared in the National Herald/Ethnikos Kirix for the last 30 years.

Cover Image: Dan Georgakas at the American Hellenic Institution Foundation's (AHIF) 17th Annual Future of Hellenism in America Conference (2018). All photographs courtesy of the editor.