Is Dr. Martin Luther King's Message of Hope Dead?
by Elaine Thomopoulos
Eighteen years ago I toured the Ebenezer Baptist Church in Atlanta, where Dr. Martin Luther King, Jr. had preached. The church reverberated with a recording of his "I Have a Dream" speech that he delivered in 1963. It brought chills ups and down my spine. I recalled the tragedy of Dr. King's assassination and the explosion of anger that ensued. At the time of his assassination, I was working in Garfield Park, a Chicago neighborhood hard-hit by the riots that followed his death.
As I write this, I can hear his deep, strong voice: "I have a dream that one day this nation will rise up and live out the true meaning of its creed: 'We hold these truths to be self-evident: that all men are created equal.'"
There was hope in his message. Did that hope die?
Sometimes I get so discouraged I want to cry. Every day I hear another incident of racial injustice. In the last couple of days, there was Anjanette Young, a Black social worker who was handcuffed naked by a Chicago policeman after they raided the wrong apartment, and Andre Hill, an innocent man shot dead by the police in Columbus, Ohio.
The racist attitude toward minorities is encouraged by some of our political leaders who instead of taking a stance against bigotry, fan the flames of division. There are also many within our own Greek American community who harbor prejudice against people of color. It pained me to learn of a Greek American businessman who refused to post a Black Lives Matter poster in his store; a couple of months later he made up his own poster saying, "Pray for the Removal of Demonic Chinese Influence in our Country."
What gives me hope are Greek Americans like Greek Orthodox Archbishop Elpidophoros marching alongside others participating in the Black Lives Matter Movement. It reminds me of Archbishop Iakovos marching beside Martin Luther King Jr. in Selma, Alabama. He fully supported the Civil Rights Movement despite many of the Greek American community vehemently objecting to his activism.
What gives me hope is seeing members of the Assumption Greek Orthodox Church in the Austin neighborhood of Chicago join together with Black members of the Catholic congregation in the neighborhood to organize community dinners for the homeless and less fortunate in the community.
What gives me hope are young people like my son Christopher, who constantly posts on social media about injustice toward minorities, including a statement he made with his art about the brutal death of George Floyd.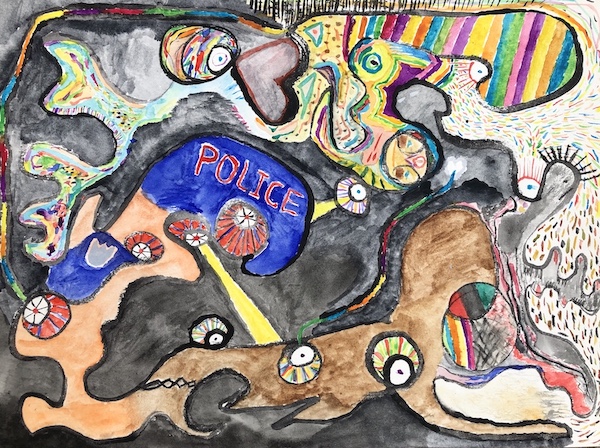 What give me hope are my granddaughters Lauren and Jillian marching in support of the Black Lives Matter Movement and using social media to call out those who exhibit racist attitudes. Lauren's confronting a government official, despite the vicious verbal attacks she received, eventually led to his resignation from his position. Those who speak out against injustice want to live in a world like that envisioned by Dr. King.
It is only by taking a stand against racism and by trying to defeat racist attitudes we ourselves harbor that we can reignite a glimmer of hope in the future and thus honor the memory of Dr. King.

Elaine Thomopoulos is author of History of Greece and editor of Greek-American Pioneer Women of Illinois and the forthcoming thematic encyclopedia Modern Greece (ABC-CLIO).