Tom Megalis, Artist
An Interview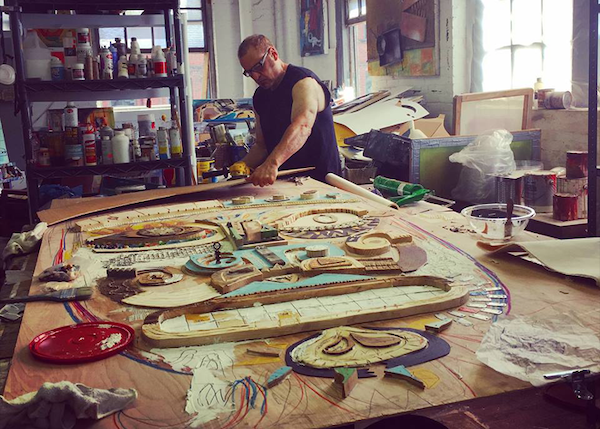 Tom Megalis is a Cleveland based multimedia artist and a graduate of Carnegie Mellon University. He has been a creative force in art, television, film and radio for over 35 years.
Megalis's mixed media and art is collected internationally. His work has been featured at the High Museum of Art in Atlanta, Brooklyn Waterfront Artist Coalition New York City, The Zanesville Museum of Art, Westmoreland Museum of American Art and in numerous solo and group shows.
Tom's films have been shown at Sundance, Hiroshima International Animation Festival and Annecy International Animation Film Festival.
The feature film "Sonny Days Youngstown Shakedown" that Megalis directed and starred in won "Best Comedy Feature" at New Hope Film Festival. Tom has also developed and produced television projects for Nickelodeon, Comedy Central, HBO, MTV and FOX.
Tom's recent public art commissions include multiple large-scale pieces for the national restaurant chain Choollaah Indian BBQ, murals for the Cleveland real estate group Graystone and a large scale installation for SkidMark garage in Ohio.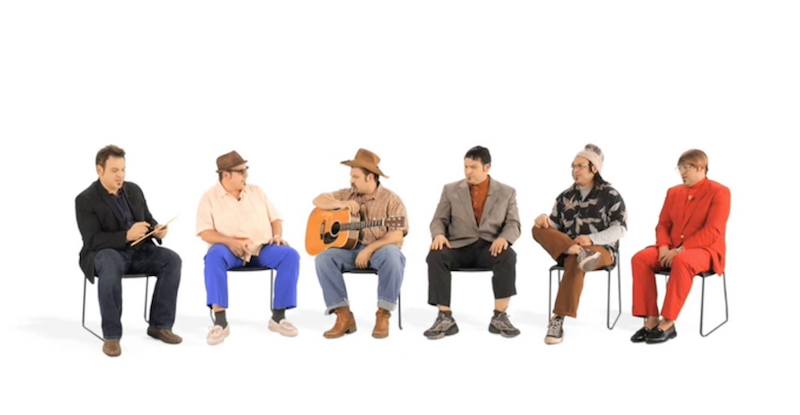 Interview (questions by Vasilia Kourtis-Kazoullis1 and Yiorgos Anagnostou2)
You are a versatile artist, working with a wide range of media (painting, sculpture, animation, video, performance). How does art speak to you?
TM: Art making in all forms has been a way for me to understand and document my life. I may meet a person who intrigues me. It could be the way they walk, speak or their story. That little spark is usually what starts the creative process for me.
The work I did for the radio show on WDVE in Pittsburgh and hosting my own morning radio show on WMMS in Cleveland was all based on real characters I've met.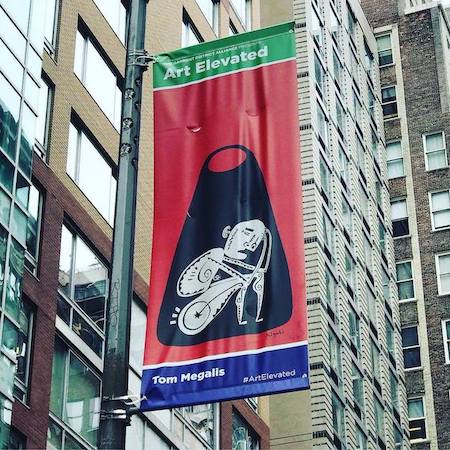 Does your art tell a story? (Is there a story or two which is central to your art?)
TM: Story telling is an important element in my work. Some of my work deals with topics such as unnecessary incarceration, the Pittsburgh synagogue shooting and the Covid pandemic. Art becomes a way for me to not only journal but to express my deeper feelings.
Could you offer context and thoughts on a couple of specific paintings and/or mixed media work?
TM: "Aeolus, God of the Winds", from Greek Mythology, is a commissioned piece I did for Los Angeles music composer Michael Skloff. In the Aeolus painting we see a man in a boat at sea. He has let go of his oars and is allowing nature, the universe to guide him.

"Seamstress" is a mixed media piece depicting my mother Sophia at her sewing machine tailoring clothes for my sister Georgia and I.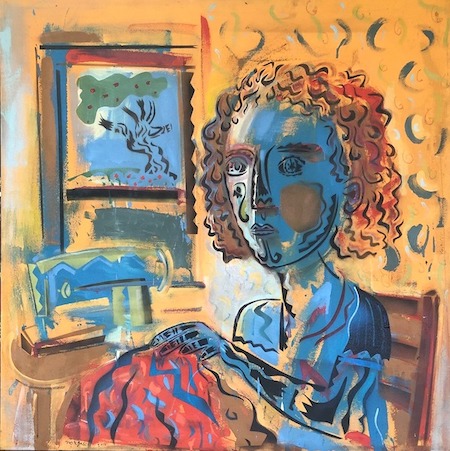 When I was around twelve years old, I wanted a paisley shirt and bell bottoms so I could look like Keith Partridge from the Patridge Family. We didn't have extra money to buy JC Penney catalogue clothes, so my mother drew up some plans and made me a fancy outfit. I felt like a Greek Keith Partridge.
"Production" is a mixed media found object piece. I spent many years directing television and film projects. This nine-foot painting depicts the characters on a set.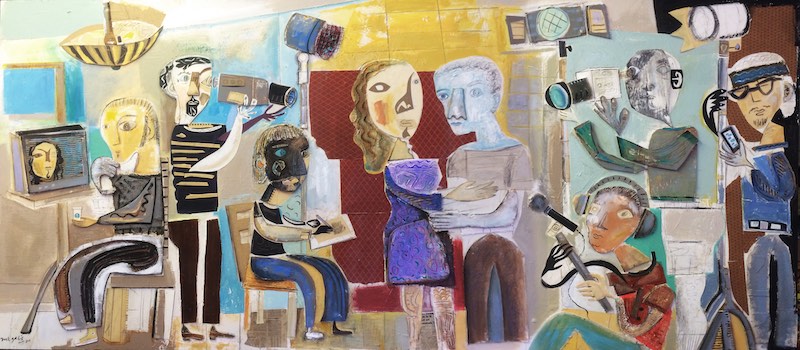 "Tree Of Life" is my reaction to the antisemitic shootings in 2018 at the Pittsburgh Synagogue Tree of Life. Eleven people were killed, including several Holocaust survivors.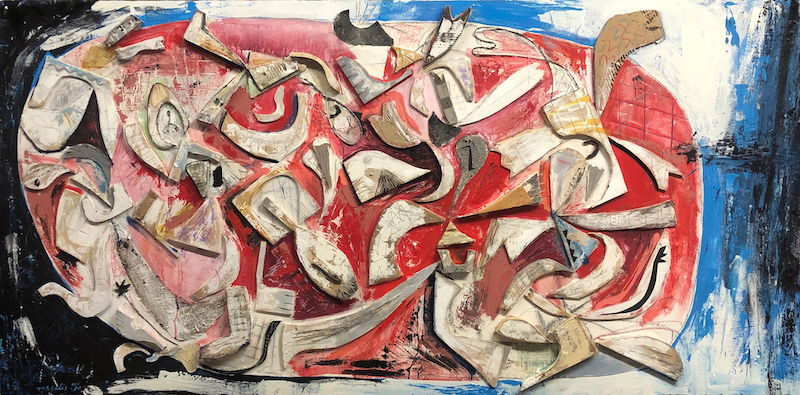 What drives your interest in public art?
TM: Bringing art to the people. I don't believe many people go into galleries or museums so much anymore. Perhaps they feel that the space is stuffy and unapproachable. When I create in a public space a multitude of people can experience the art. That makes me happy.
I enjoy taking walls that are in disrepair and making them into something beautiful. My murals for Tyler Village in Cleveland are an example of this approach. Walls, once an upsetting visual distraction, have now become background for photo opportunities.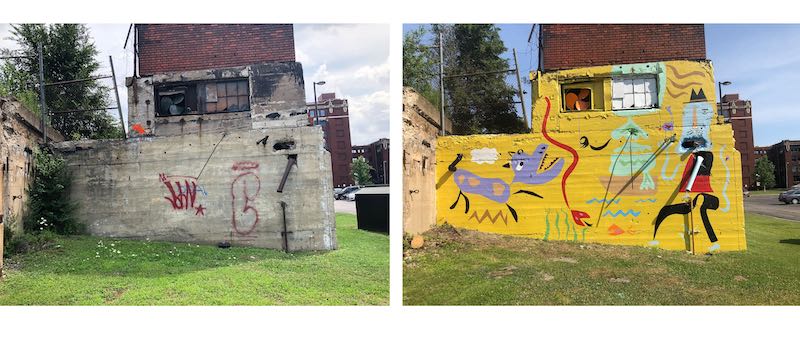 My public art piece "MotorHead," created for SkidMark Garage was a great opportunity to integrate forgotten materials into a bold large artwork. I took old motorcycle parts and created a 16' head with spoked wheels for eyes and seats for hair.
The Choolaah Indian BBQ commission is a large-scale series of mixed media and found object pieces I created that reflect the Indian culture and food.

It seems like your work exhibits a concern about the pain of stigmatized groups and the promises and failures of the American dream, among other issues. Would you like to share some thoughts on this?
TM: My father and mother came to America from Greece in search of the American Dream. America was bubbling with new opportunities for those fleeing Ellada.
My father arrived in America much earlier than my mother. His brother Mitchell was already in the United States and wrote my father a letter saying, "Niko, in America there is a lot of work and money. Come now!"
My father made it to the promised land in the middle of a blizzard. Mitchell, who had constant sinus infections had already headed back to Greece citing "Ohio is a place that God forgot."
So it began.
My father worked at Republic Steel for the next thirty years of his life. He eventually went back to Greece at age 58 to find a wife. He met my mother who was only 28 at the time. With a thirty-year age difference they were off to start a family in America.
My Greek parents immigrated to America to enable my sister and I to have a better life filled with possibilities and choices. Seeing the United States change, and in many ways divide, has not been easy for any of us. My feelings and reactions often end up in my art and videos. It's a way for me to add my commentary. I believe part of the artist role in society is to document the times.
In an interview for the National Hellenic Museum, you spoke about your mother Sophia, who was an immigrant. You spoke about how she powerfully inspired your art; how her determination to leave Greece and her creativity was a powerful force in your artistic explorations. We see Sophia in so many of your paintings and videos. Can you give us an example.
TM: My mother Sophia is my greatest inspiration. Her character mimicking skills were off the charts. I would watch my mother impersonate her condescending boss and co-workers. She is the one who showed me the power of creating characters and the art of storytelling.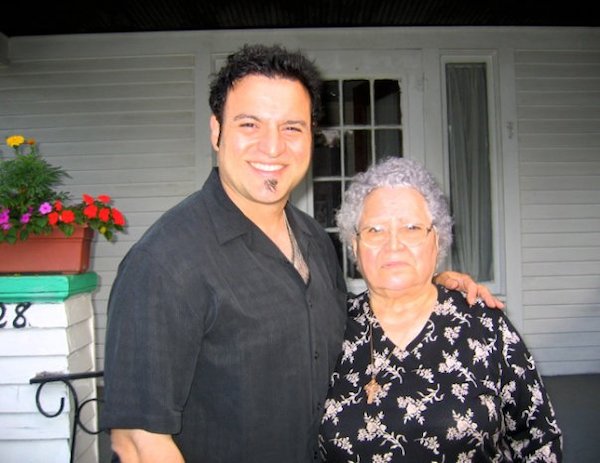 We also see your father in many of your paintings and videos. We see him in his garden, we see him eating his Greek American breakfast. If Sophia was the driving force, what role did your father play in your art?
TM: My father loved life and relished every minute. He loved squirrels, picking an apple from our tree and teasing the fat cat in the yard. He was 64 when I was born, retired and a stay-at-home day dad with my sister Georgia and I.
My dad was older, but incredibly wise. Once I got jumped and beaten up in the school bathroom by a bunch of punks. I came home bloody and angry. As I was deciding what baseball bat to take back to school with me, my father cleaned up my wound while I discussed my revenge plan. He made me a bowl of tomato soup and a BLT sandwich. We quietly ate lunch while we watched Days of Our Lives. By the end of lunch, my vengeance plans were long gone, and we were sitting in the backyard eating a tomato, bothering the neighbor's cat and laughing.
Even as my father entered his mid 90's he never lost his childlike love for life. That is the greatest gift he gave me.
You are a child of immigrants. How does this position shape your way of seeing through art?
TM: Those early years with my Greek parents growing up in the rust belt of America are burned deep into my mind and soul. As the years have gone by, I have been unpacking my experiences and dissecting them.
Most of my extended family lived in Greece and still do. It was just the four of us in Ohio. As a child, I often felt like an outsider looking into another world. With my curly dark brown hair and olive skin, I looked different from the American kids. I ate different food and spoke a different language. My father never drove a car and my mother learned to drive a car in her late 40's. We relied a lot on others for transportation.
Being a child of immigrants forced me to create my own world. Making art was not only a way to entertain myself, but a method to help me cope.
How does it further inform the stories you tell and what is the purpose for telling them?
TM: I continue to tell the stories of my childhood and my early surroundings because they are my foundation. I often joke that making my art is my therapy. There is truth in this. I don't see my childhood as being marinated in any real trauma, but it was certainly not a typical American childhood. We were in America, but the Greek culture was very much a part of my early years.
My parents didn't discuss any of the cultural collisions that were occurring. My art and comedy became my lifeboat and safety walls.
Obviously, your Greek world enters your paintings. Could you give us a tour through a couple (or more) of paintings that bring the Greek (or the immigrant) and the American (or something else) together?
TM: Many of my paintings tap into my Greekness. Most obvious are my Greek mythology pieces such as "Fighting the Minotaur," "Icarus" "Medusa" and "Warrior." These are my take on old tales, but they still resonate with me. I think I may have been a Greek vase painter in a past life. The gold line work I do on black is very natural to me and goes back thousands of years.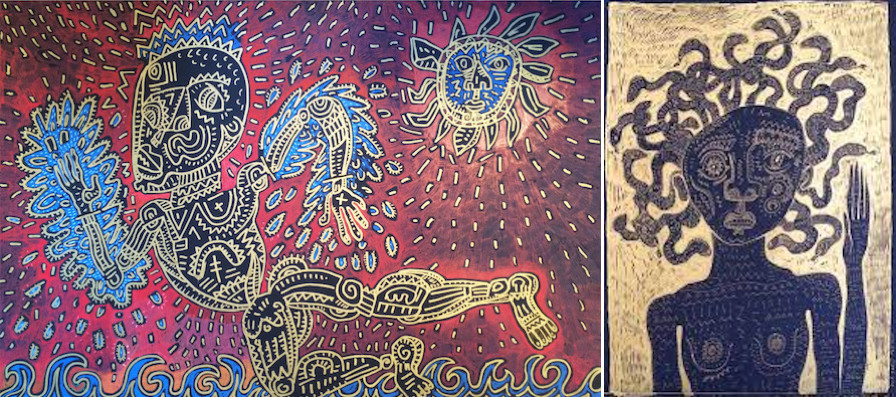 Pieces that are more Greek family inspired are "Helios Therapia," "Sophia" and "Skilos."
"Helios" is a portrait of my dad doing what he did most afternoons, soaking up the sun!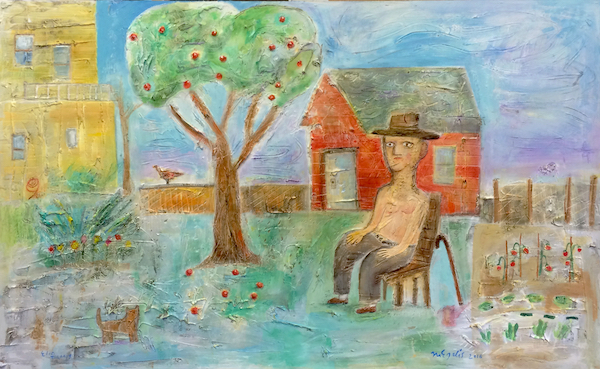 "Sophia" is a drawing I did of my mother around the time I was in college. The line work is fast and active. That is exactly how I saw my mother, always busy.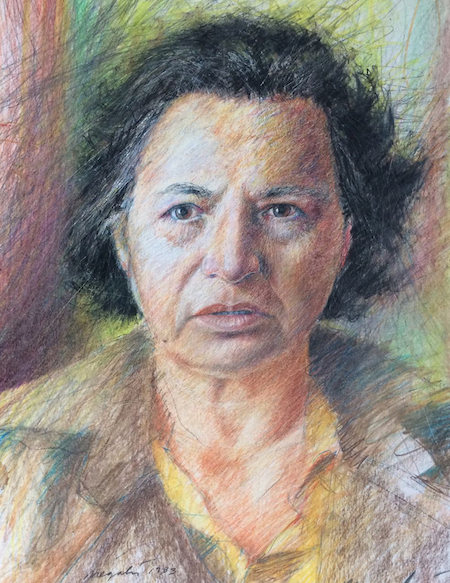 "Skilos" is made from objects I took from my mother's kitchen after she died. I used her baking sheet, cutting board and other items she used daily.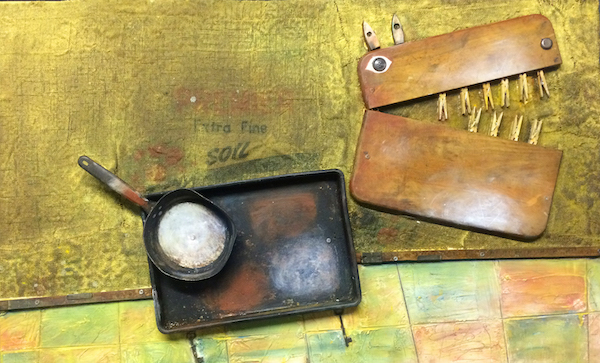 Your comedic satire often personifies Greek immigrants with whom your Greek American persona enter in a performative conversation. These interactions are often frustrating for both, leading to a breakdown in communication. The American-born Greek and the immigrant (often countering the image of the hard-working, honest immigrant) are incapable of finding a common ground; a vast gulf separates them. What story do you tell via these situations?
TM: The Greek in America scenario has always been a source of comedy for me. Witnessing Greeks interact with not only Americans but also with other Greeks is always entertaining for me.
My mother often hired Greeks to work on our home and her two rental properties. It often escalated to an over dramatic comedic skit.
What motivates the comedic animation of Greek America?
TM: Characters and stories. My Greek parents moved to America for a better life and more opportunities, but, ultimately, they didn't want to totally "buy in" to the American way. They kept their Greek foods, Greek culture, Greek friends, Greek songs and Greek things as intact as possible. And of course, I mined a lot of material from the boarders that lived in our home.
To make ends meet my parents rented out most of the bedrooms in our home to boarders. We called them roomers. I roomed with my father in one bedroom and my sister and mother bunked in the dining room. The rest of the house was rented to the roomers. Having a strange group of men in our home helped shape my love for characters, story and chaos. I have written a film script called "Roomers" that is my next feature film project.
Perhaps tell us a story about the Foodzooka?
TM: Foodzooka was developed for Fox Animation as a show called "Tom's Life," the story of Greeks living in Cleveland, Ohio with their first-generation children and grandchildren.
The family runs a diner called GyroLand that sits right next to the Rock and Roll Hall of Fame in Cleveland. The idea was to show the ultimate cultural clash between Greek American culture and Americans.
I also produced two other segments for Tom's Life, "Pilgrims" and "Neon Jesus."
Do we see Tom Megalis in these videos? Do we see your experiences and memories of growing up in a Greek American neighborhood?
TM: I am at the core of most of my projects, in voice animation and live action. Recently I was the voice of Captain Caveman for Yabba Dabba Dinosaurs, Warner Bros. reboot of the Flintstones.
The Tom's Life project is not all based on actual things that happened to me growing up in a Greek American neighborhood, but they are all inspired by those moments.
This also extends into other projects, like the feature film I directed and starred in called "Sonny Days Youngstown Shakedown." My character Chuck is based on a Greek diner owner I met in New York City.
Is there something that draws your interest in Greek America now (its arts, literature, popular culture, etc.)?
TB: Whenever I travel to any American city, I visit Greek Churches. I am inspired by the old icons and how the Greek culture continues to thrive in America. My new art series "Halo" is a collection of angel paintings and sculptures that are influenced by the icons that hang in the Orthodox churches.
Another example of my religious work is "Crown of Thorns" a painting that hangs at the Akron Christian Reformed Church.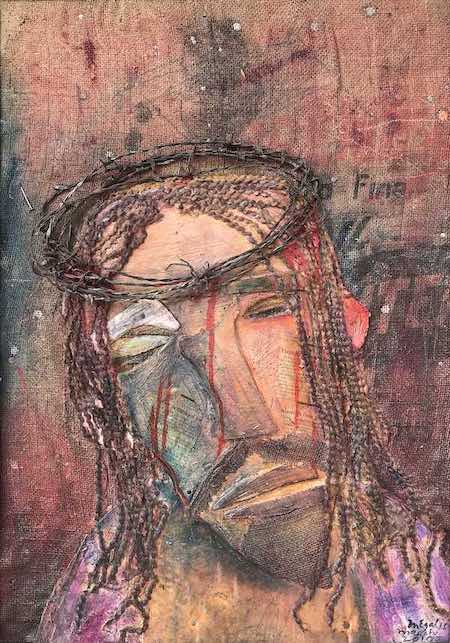 Like many of my Greek friends, I have merged into American culture. My wife Denise is a strong, beautiful, American woman. We have three amazing children Nicholas, Olivia and Zachary. All of them are creative and well balanced and all three identify as Greek. My dad always said, "if you have one drop of Greek blood, you Greek!"
We've also been blessed with two beautiful granddaughters, Lady Ophelia and Winter. I am a Papou. A new level of Greekdom!
You have lived a Greek American life. What are some dimensions from this experience that you would like to bring to the attention of the next generation? How does one convey these facets to a generation that perhaps has not experienced this in their lives?
TM: Regardless of how removed you are from the Greeks who first came to America, you are Greek. Embrace the old country where family came from. Explore your culture and use it for inspiration, guidance and strength.
What is Greek American success to you as a person?
TM: Success can be measured in many different ways. I am very grateful that because of my parents' sacrifices I have been able to pursue my passion and make a great living as an artist and filmmaker.
Many of my videos and art projects have been rooted in my Greek American experience. Being able to have a supportive audience for those projects has been incredibly rewarding. I am blessed.
***
1. Vasilia Kourtis-Kazoullis teaches at the University of the Aegean (Greece). She was born on the island of Rhodes, Greece but grew up in Warren, Ohio (in the same neighborhood as Tom Megalis).
2. Yiorgos Anagnostou teaches at the Ohio State University in Columbus, Ohio.

Credits: The cover photo is by James Mahathey.
---
Other Links
Documentary short. Artist Tom Megalis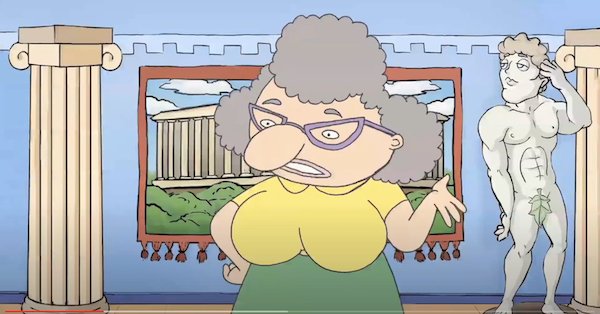 Sonny Days, Youngstown Shakedown Trailer.
A film I directed and starred in. Winner Best Comedy New Hope Film Festival
Presidential Election. What my Dad Might Think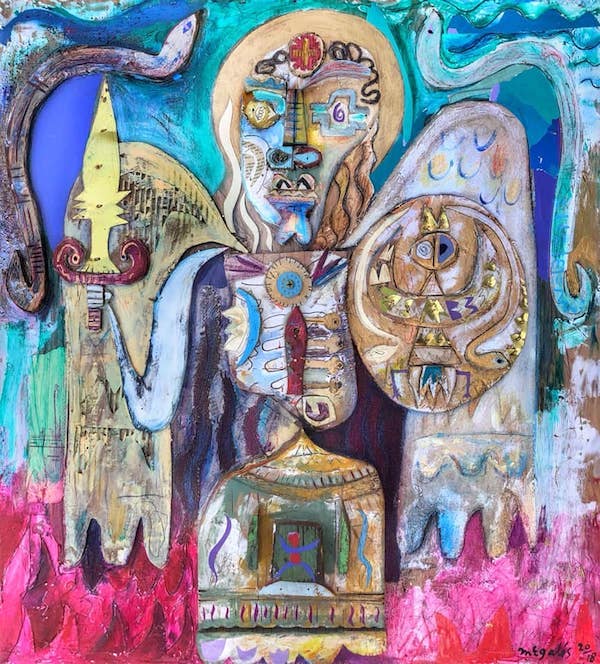 Website: http://www.tommegalis.com/
Instagram: https://www.instagram.com/tommegalis/
Linkedin: https://www.linkedin.com/in/tommegalis/
Twitter: https://twitter.com/tommegalis
Facebook: https://www.facebook.com/tom.megalis
Youtube: https://www.youtube.com/tommegalis