This essay was written for the music section of Ergon in response to the following prompt:
We are seeking brief compositions (this can be in the form of an improvisation, or a precomposed work) that represents your musical rendition of the Greek/American diaspora experience. Your musical contribution can be as short as 1 minute long, or as long as you'd like. We would like to upload a recording on the website, perhaps as a link to Youtube or to your own website. You are welcome to upload a score as well, if you choose to create/share it.
Please accompany the musical composition with a brief essay (~500-1000 words) that explains your relationship to the Greek/American diaspora and includes relevant details about the composition and the compositional process.
A central goal of this initiative is to continue to push the field of ethnomusicology and of Modern Greek Studies towards engaging with diaspora not as a discrete entity viewed within an ethnic or national framework, but as a shared space comprised of newcomers and those constructed as indigenous. From this perspective, ethnic identity is just one of a number of identity markers like gender, class, and sexuality that inform the diasporic experience.


Throw Off the Yoke of Oppression; Resign All Posts; Hold Tightly Your Vision of How Things Could Be
By, Michael Malis
Michael Malis is a composer, pianist, and music educator based in Detroit, Michigan. A multi-faceted musical artist, he works across genres in improvisational, concert music, and interdisciplinary settings. His March 2020 release, Three Pieces for Piano, was praised by the Southeast Michigan Jazz Association as "thrilling music, with shifting harmonic and rhythmic qualities that require prodigious precise technique and the kind of generic versatility that few pianists achieve." His duo project with saxophonist Marcus Elliot, Balance, has been praised as "contemporary jazz of the highest order, a benchmark for where the genre can go" (Detroit Metro Times.) As a composer, Malis has been commissioned by Detroit Chamber Winds and Strings, Chamber Music Society of Detroit, Great Lakes Chamber Music Festival, Detroit composers' Project, Virago, Hole in the Floor, and others. As a pianist, he has shared the stage with such luminaries as Marcus Belgrave, Gerald Cleaver, Jaribu Shahid, John Lindberg, William Hooker, A. Spencer Barefield, Tyshawn Sorey, Brandee Younger, J.D. Allen, and Marion Hayden. He is currently Visiting Instructor of Jazz Piano at Interlochen Arts Academy.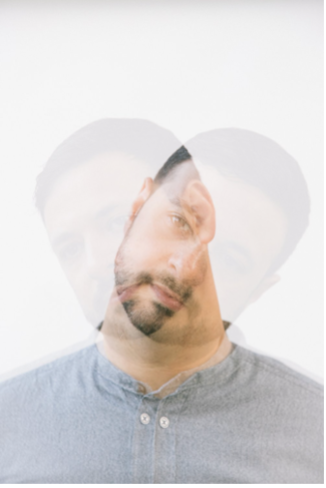 This essay serves as explanatory backdrop for the composition Throw Off the Yoke of Oppression; Resign All Posts; Hold Tightly Your Vision of How Things Could Be, by composer Michael Malis. A link to the score and to a recording of the work is included.
Full Piano Score

Video Link to Performance of Throw Off the Yoke of Oppression; Resign All Posts; Hold Tightly Your Vision of How Things Could Be by Composer/Pianist, Michael Malis
Introduction
In the Summer of 2022, I composed a solo piece for piano titled, Throw Off the Yoke of Oppression; Resign All Posts; Hold Tightly Your Vision of How Things Could Be. A central goal that guided my compositional process was to express my conflicted and contested sense of self as a member of the Greek/American diaspora by bringing together a range of musical influences and performance practices that I tended to keep separate. Perhaps a work that incorporated influences as diverse as jazz, Western classical music, and Byzantine chant would finally express my diasporic disposition? The unsuspecting listener might expect to encounter in my work conventional auditory markers associated with Greek music – perhaps a particular instrument, scale, or rhythmic pattern: Arranging these elements into non-traditional musical contexts (for example, a bouzouki playing over a drum machine) might be an obvious starting point for a Greek/American hybrid music. However, my solo piano piece contains none of these auditory signifiers. Allow me to explain:
For much of my life, I have found myself in musical settings in which I do not feel authorized to bring my whole musical self. This feeling of constant self-editing to satisfy the requirements of any given performance situation seems resonant with a diasporic disposition – perhaps vaguely analogous to the feeling of having one foot in a homeland and another foot in an adopted home. Indeed, my sense of self remains conflicted, contested, and ever-evolving, an ongoing process marked by diverse and often contradictory influences. In this piece, I have finally found a way to weave my childhood experiences in Detroit Michigan with memories of my Greece, and with a range of musical influences from jazz to classical to popular music. Hold Tightly (as I call it for short) is thus intended to be a visionary sound world, in which the various parts of myself are seen not contradictions, but as mutually beneficial supports for one other.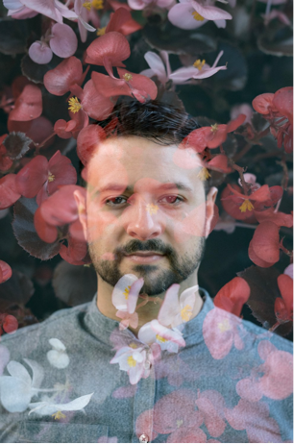 Musical Analysis
Hold Tightly is divided into three movements. The first movement, "Throw Off the Yoke of Oppression," is based entirely on one chord––a chord that hints at a minor tonality but that notes that lend it a sense of ambiguity (m.1 in the score, 0:00 in the video). This harmony is then transposed into several other keys, in an extrapolation of the common Blues form. All of this is filtered through a complex rhythmic environment consisting of nineteen beats per phrase. The pianist improvises through this environment in an energetic, almost frantic style. The focus on improvisation, the sound of the harmonies, and the subtle nod to a Blues structure situate this movement directly in the performance practice and sound world of jazz music, a distinctly Black American musical practice. After a brief tutti section which interrupts the pianists' improvisation with composed unison lines, there is a sudden shift. The dense and knotty first movement gives way to a lush and spacious interlude, which features an open improvisation utilizing extended techniques on the piano such as plucking and strumming the strings of the piano.
This interlude gives way to the second movement, "Resign All Posts" (m. 108 in the score, 8:56 in the video). The harmonic structures used in this movement are the direct inverse of the structures used in the first movement – all of the intervals of the chords used in the first movement are literally turned upside down to reveal new sonorities, built from the top down instead of bottom up. The resulting sound is something that hints at a major tonality, again with alterations that complicate its sonority. These sonorities are mapped to the range of the entire piano. To be more precise: these chords stretch over a span of 4-6 octaves, with each individual note being fixed in place.
This movement is most directly influenced by the structures and patterns of Greek music. As I composed this movement, I was in the midst of researching Byzantine Chant. Growing up within the Greek Orthodox Church, I have heard this style of singing since infancy. I now serve as organist in a Greek Orthodox Church where I interact with this performance style on a regular basis. Still, having never studied Byzantine chant formally, I find it to be both immediately recognizable and mysterious. My research revealed that Byzantine chant is based on an octave divided into 72 equal parts, as opposed to the 12-step chromatic scale of Western tonal harmony. Applying this principle to my creative process as a composer, I began experimenting with extrapolating various Byzantine-inspired structures onto spans of notes that stretched beyond one octave. I created novel "scales" that spanned as many as six octaves, stretching across the entire piano. Resign All Posts does not use any of these novel "scales" directly. However, it does utilize the general principles that I developed in this study – that a tonal world can unfold over a wide span of notes, that notes must be fixed in place in their respective ranges, and that the sum of all of the notes can be combined to create aggregate, hybrid tonalities.
The second movement draws to a close by gathering energy and momentum transforming seamlessly into the third and final movement "Hold Tightly Your Vision of How Things Could Be" (m. 182 in the score, 16:55in the video.) A propulsive and churning jazz-inspired movement, it incorporates harmonies from both of its previous counterparts, mixing and matching the "major" and "minor" sonorities to create something new. Yet, whereas the previous two movements are driven by rhythm and harmony, this movement is primarily driven by melody, featuring a simple, soaring, and anthemic melody. As in the previous two movements, improvisation is a structural element of this movement as the pianist improvises through the musical material in a Jazz-informed style.
An Admittedly Ornate Title
Throw Off the Yoke of Oppression; Resign All Posts; Hold Tightly Your Vision of How Things Could Be Is an admittedly ornate title. Not all of my titles are this way. But as a composer of mostly instrumental music, titles are often the only opportunity I have to speak directly to an audience. With this in mind, sometimes I use a title as a prompt to orient an audience toward the headspace I was in when I composed the piece. It's a way of aligning us all in the same direction. The event that brought this title into my mind was the abortion ban that came into effect in Michigan as the result of that summer's Supreme Court ruling which struck down Roe v. Wade. At the time, it felt like the latest in a string of crushing defeats. It felt like the walls were closing in on us, and that the opposition was intent on snatching away both equal access to healthcare and hope itself.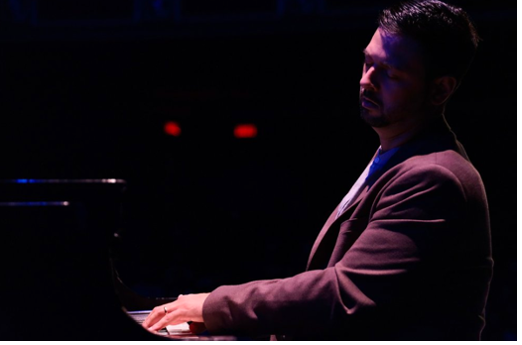 My response to this feeling of claustrophobia was self-affirmation. The title popped into my head wholesale as a series of declamations, like a toast––sort of silly in its extravagance, but also deadly serious in its intent. It served as a reminder to myself that just because a certain vision of the world was being imposed on us, didn't mean we had to submit to it. The title seeks to validate one's own claims of self-identity, and elevates that claim to the highest order. It posits that in the absence of a physical world that makes room for everyone's existence, we can at minimum create a visionary world that does just that. It asks us to use that vision as our north star––to shirk the oppression we see around us in favor of the aspirations we hold inside ourselves. Hold tightly your vision of how things could be.
But the title carries a risk with it, too. As a product of the Greek/American diaspora, I've become acutely aware that holding onto anything too tightly––perhaps even one's self-affirmed identity–– has the ability to perpetuate cycles of harm. At what point does clinging too closely to something create an opportunity for oppression to thrive? As a third generation Greek American, I am surrounded by a community that clings desperately to their vision of their heritage for fear of seeing it slip away. As the diasporic moment of my own ethnic lineage ages and fades into the past, I question how Greek I really am. Or maybe more presciently, how Greek am I still?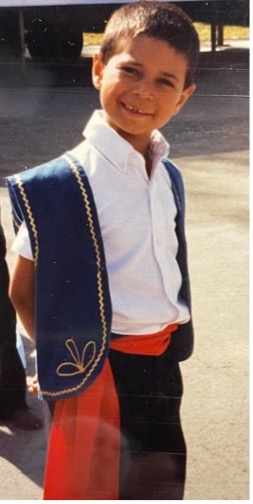 Perhaps I was more Greek when I was a child and participated in more cultural activities like Greek dancing and Greek school. When I was that age, my great-grandmother, who fled her village in Turkey as a part of the population exchange in 1923, was still alive and caring for me. Did her physical presence make me more Greek? Maybe I was more Greek when I visited my great-great-aunt's lemon groves on Crete as a teenager. We drank wine made from grapes that she crushed with her own feet and dipped bread in oil that was pressed from her olives. She's an ancestor now, and those lemon groves were sold. Was a part of me sold too? Or maybe I was more Greek even before that, generations and centuries ago, when I was just the unrealized eventual future progeny of my ancestors. According to my Yiayia, now deceased, I had a Pappou Michalis who lived on Crete eight generations ago. Being a Michalis myself, I carry his name with me still, though I go by the anglicized moniker "Michael." Did I walk with Michalis in his olive groves then? Do I carry Michalis with me when I swerve to avoid potholes on I-94 now?
Of course, this framing only looks at part of the story. As I grow and develop, I take on new identities, too. Yes, I'm a product of the Greek/American diaspora, which led my family to Detroit to open restaurants. But at precisely the same time, hundreds of thousands of Black Americans were moving to Detroit from the South in the Great Migration. One of the innumerable results of the confluence of these migratory waves was that I, a musically inclined child, was exposed to music teachers who played on Motown records. If my family had never left Greece, maybe I would be playing rebetiko. If the KKK hadn't burned down my family's first restaurant in Kentucky, maybe I'd be playing bluegrass. But ultimately my family settled in Detroit, and Jazz music is the traditional music of Detroit, so naturally I became a Jazz musician. How does that get calculated in the evaluation of the Greek/American diaspora? Perhaps these new identities aren't in contradiction with my Greek heritage at all. Perhaps they augment that heritage. Perhaps they add a richness to it that my ancestors couldn't have possibly imagined.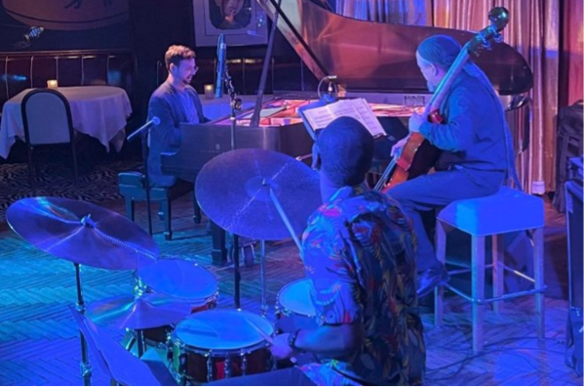 So, I think my title needs yet another declamation appended to it. Throw Off the Yoke of Oppression; Resign All Posts; Hold Tightly Your Vision of How Things Could Be; and keep renewing and affirming that vision continually. Build the world you want to live in, and watch in awe as the walls of that world push outward, like our constantly expanding universe, accommodating the expansiveness that makes life rich, full, and wondrous.
Links:
Website: www.michaelmalis.com
Youtube: @michaelnomalice