Invasions, 2020
Fear and fever. Go inside, inside,
shelter-in-place. The town
we reside in now: retraction.
Yet something – old, familiar
in all this watchful waiting. A small
half-forgotten bell that rings in memory
of invasions: my mother's clan tucked
in a hill remote and hushed, inside a small
stone house divided neatly: goats in one part;
in the other, a family of eight. Throughout
the island, elemental houses built quietly, stone
the color of the hills, with low-slung roofs,
all around them leaves the color of the earth
for camouflage. Secret houses meant to stay
unseen by pirates who for centuries roamed
the coast, marauding, up and down. Ikarians
(by day, by moonlight, watchers) sought shade
and recesses, lived under cover of a hidden
architecture whispering, we're not here, sail on.
And when I sometimes hesitate, make myself
too small, too quickly crouch, I wonder – am I
still taking measure of some low and stolid roof,
still sensing something near, disquieting,
passing by the shore?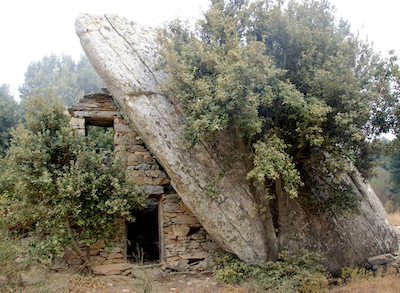 Helen Bournas-Ney was born in Ikaria, Greece, and now lives in New York City. She received the Anaïs Nin Award for her work on George Seferis and Rimbaud. Her work has appeared in Plume, The Ekphrastic Review, One Sentence Poems, Mom Egg Review – Mer Vox, The Bacopa Literary Review, The Cumberland Poetry Review, The New Hampshire College Journal, and the 2019 anthology Plume Poetry 7. Her poetry was nominated for Best of the Net 2021.