Quarantine Reflection
Timelessness & Prison
One aspect of the current pandemic/COVID-19/etc. situation is its language. In Greece, we've been served a note/lead/example through media interviews of famous people, which we common folks then emulate; the note is in the interviewer's question, a framing question s/he has heard other interviewers use repeatedly; we hear the famous people readily responding to: How did you fare during the quarantine epoch (εποχή) or time (τον καιρό της καραντίνας—an entire phrase dedicated to describing the time; as in: "the 60's"; as in: where were you when…). What, in Greek, we might call a σημείο αναφοράς (point of reference). (Often, lockdown substitutes for quarantine.) The eagerness with which we accept and respond to the terms epoch or time may indicate the lack of any definite epoch or time or point of reference our lives occupy in this world (if we exclude egocentric-, product-, tidbit- and money-based points lives spin around), so we willingly take up the lockdown or quarantine epoch, that we might at least belong to some time, to something. We've also taken on and use the term lockdown with ease and blindly, again starting from media impetus and filtering down to common use. News anchors, health specialists and politicians use the term frequently, with ease, then we, their listeners and viewers, in a spirit of newness, the newest American or Western term, so as not to be left out of the current conversation. Many people in the United States (unlike most people in Greece) know the term from highway chase and cop and prison reality shows on television; the selling point of such shows is the humiliation and compulsion of others. And fear. Lockdown is prison jargon and comes from prison life and refers to a ratcheting up of pressure and restrictions on people already locked up. Should our easy acceptance and use of lockdown to refer to our individual and collective situation/s be troubling to us, considering the source context of this word? Whose terms—a corrosive & impoverished vocabulary and shorthand—are we living under? And what is there that we could call our own?
Life in the village during the quarantine was less restricted than in cities: the few people (a population of about 25) meant no masks, nor permission slips from the authorities in order to take a long walk without being fined; my hours-long daily walks continued, undisturbed. Though the atmosphere of control and protection (and civic duties) is global, from village to metropolis. Yet life goes on in the village, even as traditional Greek village life has been dying out for a long time (and with it, people's connection to the land, and through this breach, the loss of their autonomy); most villages are remnants of their former selves. But life goes on (to where? is another question), with an overwhelming constellation of related and seemingly unrelated new (and old) measures (μέτρα), terms, μεταρρυθμίσεις (adjustments), color-coded alert systems, acronyms, μηχανισμοί (mechanisms) and their stipulations guiding us (το ESM, we say, το ΔΝΤ, το ΛΟΚ ΝΤΑΟΥΝ), with people somewhat warier, somewhat more tired and confused, and perhaps a little less free than before, all for the general good, we are told.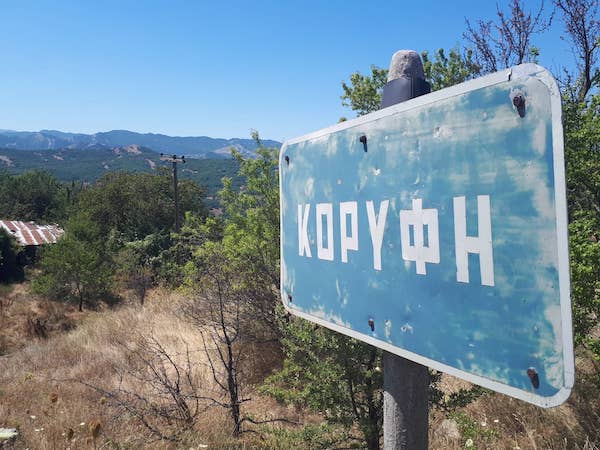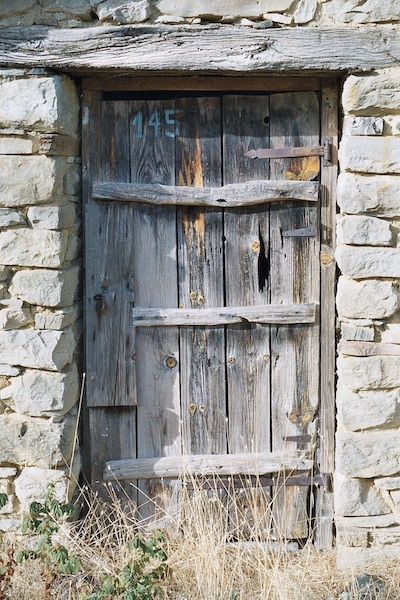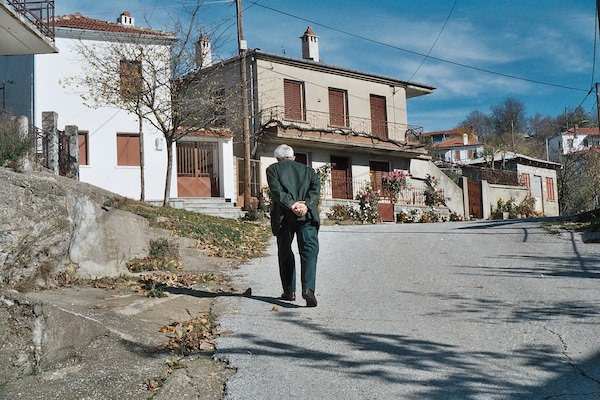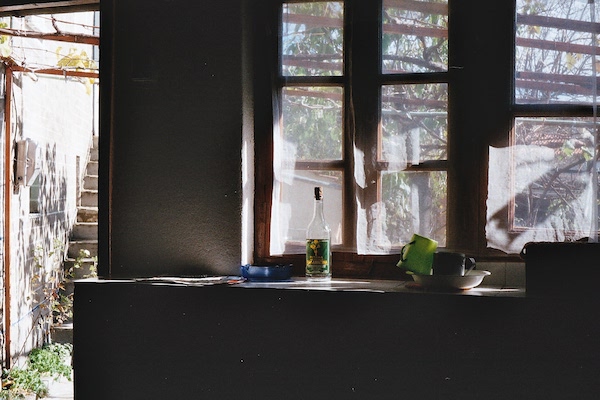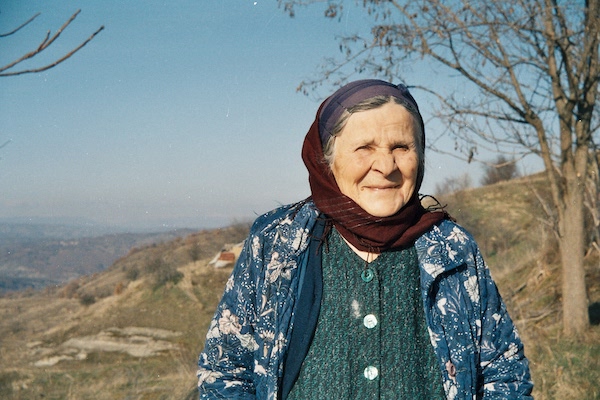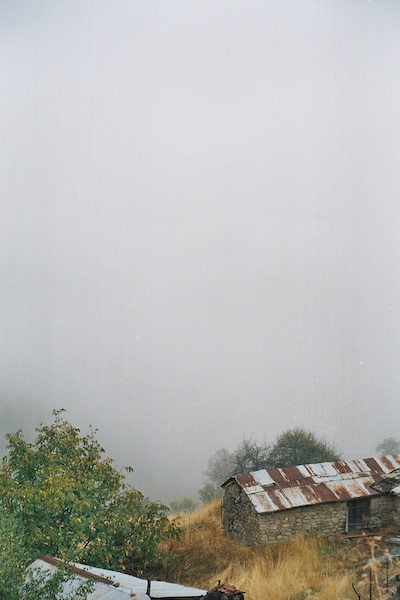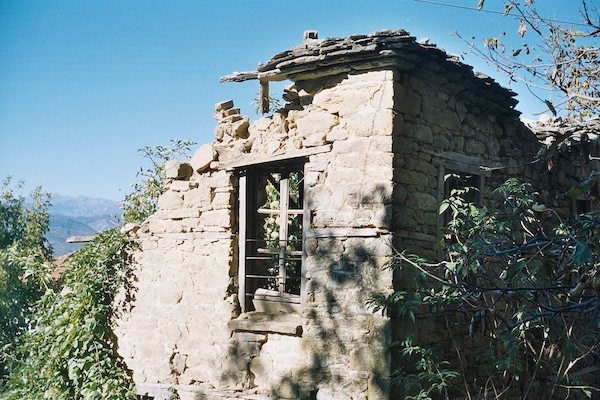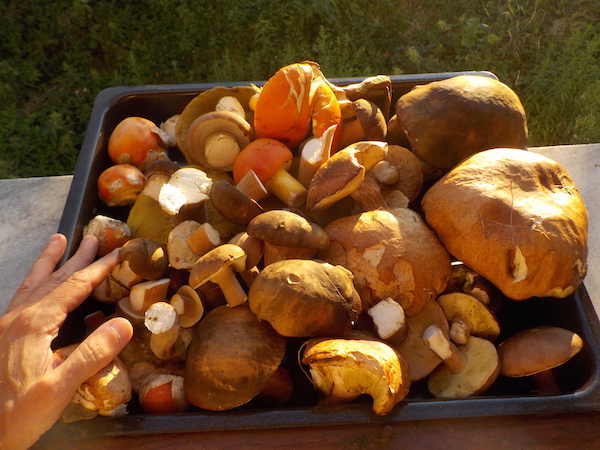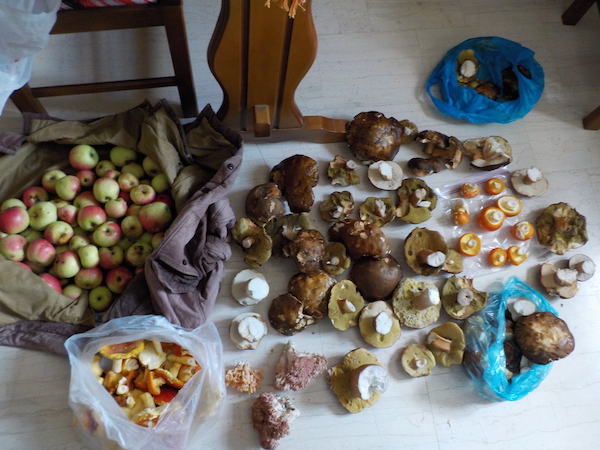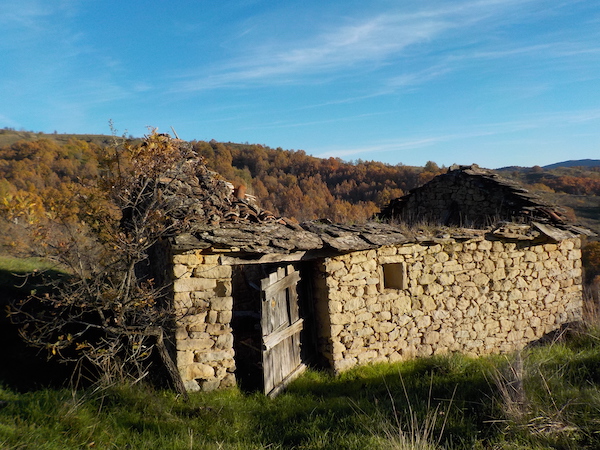 Editor's note: The ancestral village has been an emotional and existential center for Tryfon Tolides. This is how he described this topos in a 2006 interview:
"So the village now. Old houses left. Fewer people returning. Some people come and remake their grandparents' house in the style of the old stone, but it's that exactly: in the style of. No more chickens. The butcher shop long gone. The school long since closed. No more stores, periptero. A new kafeneio is being built, but who will go, especially in the winter. I remember hearing the daoulia across the mountain valley at nights during weddings or panighiria at other villages. I remember counting their street lights and looking at the villages sprinkled across the mountains at night, the little constellations of light. They'll have a mbatzio festival; they're making some campaign or effort to make publicity and the village has its horoesperidha in August, etc. But the rooted life it had for a few hundred years is pretty much gone.
I love the village, it is home for me, grounding in body and spirit, even without the people. It is a meditation, a simplicity and rejuvenation for my soul. I've gone the past three years, though I usually don't go every year. This past year was the first time I went since my mother's funeral. She is buried in the village (my father's village, but she loved it and grew up there, spent many years). She died two years ago in September while she was there. I got there in time for the funeral and the casket cover at the gate door and all the men in the yard and all the women inside my house and in the room with my mother and the flowers from the gardens of the village women, and the cane I had gotten my mother before she left that year and her glasses. She had been granted her peace finally, and I don't mean because of the death, or for being in the village and in her house, but she had her peace, at last. It was beautiful. I feel so very glad I made it there in time to see her off, to be there holding a candle next to her in the church. It was all very beautiful and moving. She always prepared for the winters in the village, buying and stocking wood, even though she came back to Connecticut for the winters. She always prepared for us to be together, and there, as a family, you know?"

Tryfon Tolides was born in Korifi Voiou, in the province of Kozani, Greece. His first book manuscript, An Almost Pure Empty Walking, was a 2005 National Poetry Series selection, published by Penguin in 2006. In 2009, he received a Lannan Foundation Writer Residency in Marfa, Texas.