Community in Performance: Greek Folk Dancing and Cultural Production among Gen Z in California
by Anastasia Panagakos
Abstract
This essay highlights the significance of the Greek Orthodox Folk Dance and Choral Festival (FDF) as a site of cultural production for Greek Americans/Greek Orthodox Christians in California and other western states. I consider how the event, as an intercultural zone, has far-reaching implications for identity and community formation where notions of Greekness are actively negotiated and validated through competitive performance. The FDF experience is authenticated by invoking the usable past of idealized Greek village life and traditions, the legitimizing force of the Greek Orthodox Church, and through the engagement of cultural and folklore experts. FDF invokes American middle-class aspirations through conspicuous consumption and by functioning as a management and leadership training ground. As FDF approaches its fifth decade however, the perception and meaning of ethnicity is shifting for a younger generation, Generation Z (Gen Z), that increasingly values hybridity, inclusion, and social justice through their lived experiences in multicultural California.
Keywords: Greek folk dance; competition; cultural production; Greek diaspora; Greek Orthodox/Greek American, California; ethnoreligious identity; Generation Z (Gen Z); middle class ethnicity; transnationalism; usable pasts; social media.

A Thousand Small Moments
I stood in the deserted church school room one cold and rainy Sunday morning in early November 2019, surveying the chaos. Although the teachers did their best to keep things tidy, the small room did not easily accommodate four classes and all their materials. With Divine Liturgy over, the children fled to the community hall for coffee hour treats, to socialize, and to play on their devices. I had approximately twenty minutes to transform the stuffy and cramped room into a space suitable for dance practice, our first in preparation for the Greek Orthodox Folk Dance and Choral Festival (FDF), the popular competition hosted by the Metropolis of San Francisco. As I bent down to pick up a stray marker from the floor, I could sense my anxiety rising as it always did on the first day of practice. What would the children expect this year? What about their parents and the community which supported us financially? Although our parish, Saint Katherine Greek Orthodox church of Elk Grove, was established in the mid-1990s, our participation in FDF only began in 2015, having lacked until that point sufficient resources and organization.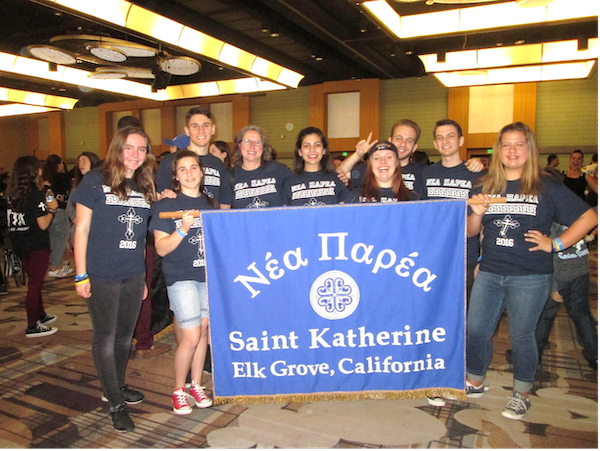 My anxiety was not without reason. The first FDF, held in 1976, grew from a small annual gathering of a few participating dance groups, to the largest youth ministry of the Greek Orthodox Church in the United States (and some argue globally). Participating in competitive Greek folk dancing requires a commitment of time, financial resources, and cultural expertise unimaginable at the event's inception in the 1970s. As lead dance director for our parish, the responsibility of orchestrating our participation was often overwhelming, in part because FDF itself had transformed into a highly anticipated aspect of Greek American youth and family culture in California.
I moved tables and stacked chairs, maneuvering the mobile partitions and white boards to fit between a spare candle stand and piano, frustrated at our lack of space. Usually we practiced outdoors, taking advantage of the mild California winters, but today the rain was intense, the wind whistling under the door. No matter, I thought, first practices were mostly about discussing expectations and setting rules of conduct. With the room cleared, I took out blank index cards and golf pencils, today was more about thinking than dancing. I wrote a prompt on the white board, "What FDF means to me," and fiddled with the playlists on my phone until the dancers began to trickle in, the room suddenly filled with their exuberance and wet feet. There were twenty-two dancers in all, ranging in age from nine to seventeen, two-thirds were girls, and several were siblings.
I was attempting something new this year, combining our two small dance groups into one large group. This was a risky move for several reasons, not least of which was the variation in skill level and physical size of the dancers. The larger group had its advantages however, including a more commanding stage presence and choice in terms of dances and choreography. With the parents supporting this change earlier in the year, I invested considerable time and community resources to purchase costumes while visiting Greece and consult with experts about music and dance selections. Today's practice marked the beginning of our greatest investment in time, energy, and financial resources for any parish youth project. By the end of FDF weekend in mid-February 2020 we had practiced for five months, held two lunch fundraisers, participated in a service project, had dress rehearsals, and collectively spent over $30,000 on hotel rooms, registration, meals, transportation, new costumes, and materials. Some may be surprised by the expenses, yet our dance group is just one of a hundred such groups participating annually in FDF, and we tend to be among the thriftier.
I watched the dancers play around for several minutes, their joy and excitement infectious. I quietly moved among them, handing out the index cards and pencils, one by one shifting to a more studious demeanor, as if about to take a test. What did FDF mean to them? What did they, many of them third or fourth generation Greek Americans with at least one non-Greek parent, or with no Greek ancestry at all, take away from this experience? I collected the cards as they finished, writing key words and phrases on the white board. While learning about the Greek culture and love of dance was noted in at least half of the responses, by far the most popular responses focused on community such as meeting new people, reconnecting with friends, and being together with other youth who were Orthodox Christian or of Greek ancestry. As I finished writing on the board, I turned to the group, and asked what was missing from their list. One of the youngest dancers raised her hand immediately, her small fingers waving in the air. "Competition isn't on the list," she responded, beaming. I nodded, looking at the others, knowing that for some, the competitive aspect of FDF was certainly an important part of the appeal, and yet they did not admit to it because it was outside of our group norms. I motioned to the dancers to line up, tallest to shortest, the first notes of a favorite syrto quieting their chatter.1 They joined hands in a semicircle, their steps a bit disjointed until they all found the rhythm, moving together as one, a community in practice.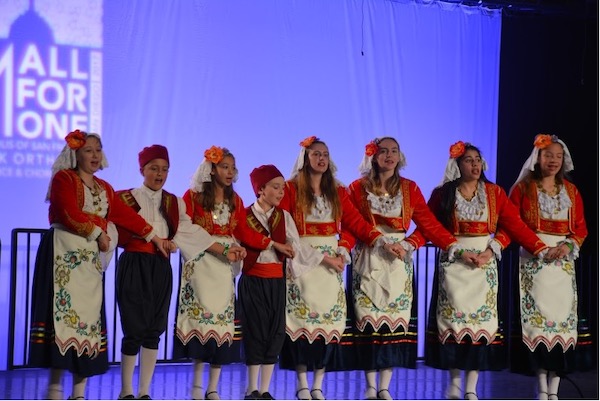 Although in its most basic form FDF is a weekend folk dance and choral competition, its far-reaching implications for identity and community building are found in thousands of small moments such as the one described here. All over the West Coast at Greek Orthodox parishes from Seattle to Honolulu, San Francisco to San Diego, to Las Vegas and Tucson, the yearly FDF cycle of practices and competition operate as a focal point of Greek American youth culture. This is evident in what the dancers themselves jokingly call PFDFD or post-FDF depression. The dancers once shared the list of "symptoms" with me, which included wearing the registration wristband or souvenir t-shirt for weeks after, excessively analyzing the dance performances, or pestering the dance director about next year's participation on the drive home from FDF. The only known "cure" for PFDFD was to begin planning for the next FDF.
Although the importance of Greek folk dancing for local community building and ethnicity in the Greek diaspora has been documented, the scale and intensity of FDF is what sets it apart from other endeavors (Chryssanthopoulou 2008, Issari 2011, Liddle 2016, Papakostas 2016).2 While the youth participate in other Greek Orthodox ministries, including summer camps, oratorical festivals, religious and Greek language education, and sports programs, FDF is the largest single gathering drawing thousands of dancers and their families, clergy and ministry representatives, vendors, and spectators. The growth and recognition of FDF in the global Greek diaspora can be measured in part by it being featured in Greek news broadcasts, its entertainment headliners such as Glykeria and Dimitris Basis, and personalized video greetings by Ecumenical Patriarch Bartholomew. At our relatively small parish, which is unable to consistently sustain either a Greek language program or youth groups like Greek Orthodox Youth of America (GOYA) and Junior Orthodox Youth (JOY), only church school has more participants. Folk dance is inclusive in ways that Greek language programs are not, allowing young people to feel and experience being Greek without speaking the language, a cultural expectation more associated with the immigrant and second generations.
There are several ways FDF can be contextualized within the Greek American experience. In this essay I focus predominantly on the idea of FDF as an "intercultural zone" where community building and identity are shaped by notions of authenticity, ethnoreligious gatekeeping, transnational flows, and middle-class American values. Over the years, FDF developed into a space that accommodates variations of Greekness, yet its foundations are firmly rooted in traditional Greek American and Greek Orthodox organizational structures (such as the church parish, philanthropic societies, and cultural Foundations). At the core of FDF's intercultural zone is a dynamic process of becoming, a formative period of identity experimentation for the youth who are developing a sense of self in terms of ethnicity, race, gender, sexuality, religious beliefs, and class. It is a space which accommodates individuals with varying degrees of Greek cultural and linguistic competences. I also draw upon Anagnostou's (2009) concept of usable pasts in that the expressive elements of traditional Greek folk culture such as song, dance, and dress anchor the experiences of Greek American youth as ethnic in a shifting multicultural California landscape.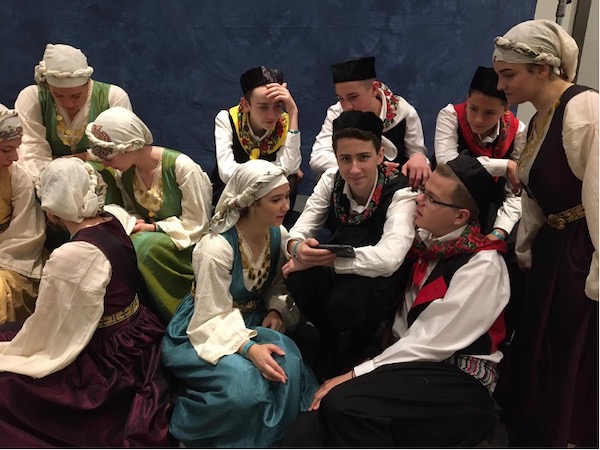 FDF: Origins and Transformations
Like many cultural phenomena, the Greek Orthodox Folk Dance and Choral Festival has an origin story of humble beginnings and inspirational hard work. The story is told in part through the narration of founder, Peter Preovolos, in the documentary, Kefi: The Story of FDF, The Greek Orthodox Folk Dance Festival.3 Accompanied by archival footage and historic photos, Preovolos describes moving to San Diego in the 1970s with his wife and three children where the small Greek community was centered around Saint Spyridon Greek Orthodox Church. San Diego's Greek community, like many in the western United States, is scattered in areas of suburban sprawl, unlike the more densely populated urban Greek enclaves of the eastern United States. Preovolos and other parents fretted over the small size of their community and limited opportunities for young people to meet others of Greek ancestry (Preovolos, et al. 2019).
Although Greek dancing played an intrinsic role in Greek immigrant sociability for decades, it was the advent of community food festivals where the idea of organized dance troupes began to expand in the west. In San Diego, this meant the formation of the Aegean Dancers, modeled after groups from Los Angeles and Oakland who had been invited to perform at Saint Spyridon's annual food festivals.
Preovolos reminisces that the specific idea of FDF, however, came from a square dance event he once attended at Pasadena's Rose Bowl in which thousands of children from the Church of Latter-Day Saints competed for prizes. The event made a lasting impression and it wasn't long before Preovolos was promoting the FDF idea around to other Greek Orthodox parishes in a self-described "dog and pony show." The first FDF was held in San Diego in 1976 with just five groups and thirty-nine dancers. By the fifth year there were twenty-five dance groups and in the most recent FDF, held in 2020, there were 114 dance and choral groups representing 30 parishes.4
Preovolos, and others involved in early FDFs, describe the formative years as a time of uncertainty, their collective narratives galvanizing an origin story that situates the competitive aspect of FDF as something intrinsically Greek. As Father Thomas Paris notes in the documentary, competition is in the "Greek soul" dating back to the ancient Olympic games and artistic competitions in poetry and drama. Competition is idealized in terms of a collective struggle and good sportsmanship, although the reality does not always match the ideal. Others have downplayed the competitive nature of FDF yet also note that without the excitement and accolades generated by winning, there would most likely be far fewer groups participating. Competition is driven, in part, by a desire for social distinction, to receive recognition of one's group and parish as embodying an authentic expression of Greek culture. To return to one's parish with medals and trophies is also consistent with the American ethic of competition and victory, the awards prominently featured in display cases as a reminder that the winning is a collective, communal effort.
As FDF expanded in the 1980s and 1990s, there were challenges with both the management of the event and the behavior of some participants and attendees. Those of us who participated during that era remember a lack of supervision that sometimes led to destruction of hotel property, underage drinking and sex, and fist fights. Yet through the difficulties, FDF persisted and was reformed into the largest youth ministry of the Greek Orthodox Metropolis of San Francisco. This was no small feat and the fruits of those reforms are on display each February during FDF weekend today. As the Kefi documentary notes, the mission of FDF expanded to include a successful leadership training program in which young people learned business and management skills that helped career advancement, a core component of achieving the American dream. Ethnic and religious affiliation in this way become a route for young people to enter the middle class by cultivating professional skills and networks.
Today's management teams deserve praise, for FDF has morphed into an event that goes far beyond a dance competition and requires grand-scale planning and logistics. In addition to coordinating the dance and choral competitions (the dance competition itself runs for two and a half days, twelve hours a day and includes a host of judges, staging, audio/visual needs, announcing, etc.), there is also nightly entertainment, mandatory religious workshops, church services (including Sunday Divine Liturgy with the Metropolitan of San Francisco and visiting hierarchs), opening ceremonies, an awards banquet, practice facilities, daily meals for several thousand people, and a central meeting area with vendors selling Greek souvenirs and wares and Greek Orthodox ministries such as Hellenic College/Holy Cross Seminary and summer camp opportunities like Ionian Village, in Greece, and St. Nicholas Summer Camp (located in California).5 In this respect the impressive scale of organization reflects Greek American professional experiences, and in turn Greek American professionals seeking to reproduce these "American" values to the youth. All of these activities are under the watchful eyes of parish priests, dance and choral directors, parent chaperones, and a private security team. Although parties and underage drinking are still a part of FDF, these activities have been curtailed and the event is safer and more in tune with Greek Orthodox values.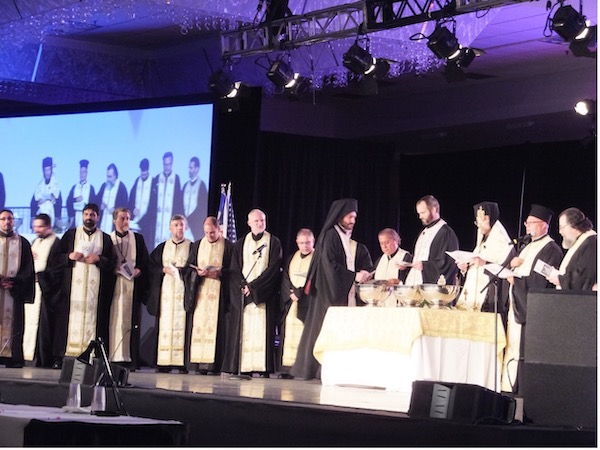 The production of the Kefi documentary is yet another chapter in the FDF story, one that signals how the event is firmly institutionalized and has achieved self-awareness about its significant role in cultural preservation. The FDF narrative is shared across generations, recited as part of family history, quite literally, in some instances where couples met at FDF and later married, now watching their own children (and even grandchildren) participate. Each year, FDF becomes a type of pilgrimage, where families and communities come together to perform their cultural, religious, and ethnic identity as Greek American and Greek Orthodox. This is an opportunity to put usable pasts centered on village folk culture, yet reconfigured in alignment with dance as ethnic spectacle (Anagnostou 2019), to work as a site of identity preservation, socialization into middle class American Values, and belonging in the broader Greek world. In February 2021, as the COVID-19 pandemic approached the one-year milestone, many participants took to social media to mourn the cancellation of FDF 2021, sharing videos and stories under the #YourFDF hashtag. FDF's official social media (found under the @yourfdf handle) posted over 30 reminiscences of past FDFs and included a hopeful message for FDF 2022 by Metropolitan Gerasimos of San Francisco on Facebook.
FDF in the Greek American Experience
The evolution of FDF as a cultural phenomenon mirrors some of the historic, economic, and social changes of the Greek American experience. During the formative years of the 1970s and 1980s, FDF performances were much like those of parish food festivals, where dances were modified to be crowd pleasing spectacles for a non-Greek, general audience.6 Dancers were to smile and appear cheerful, the costuming often simplified, and the songs pleasing to the ear. Dance directors of that era admit, often ruefully, that FDF performances were created more for their entertainment value and technical difficulty and not necessarily their authenticity. For example, directors would make up intricate step variations and sequences that had no basis in traditional Greek dance, prompting a judge to jokingly compare some groups to the famous Broadway Rockettes. These performances were a product of their time and place. Greek communities in the western United States were smaller, newer, and less cohesive than those of the eastern United States, their distance from Greece marked by an expensive extra plane ride and associated costs.
By the 1990s, however, there was a marked shift towards greater authenticity in music, dance steps, singing, costuming and staging. This shift was driven by at least three factors—the easier connection to Greece and other hubs of the Greek diaspora through Internet, social media, and rapid air travel; the growing acceptance of multiculturalism in the United States; and the continued economic successes of a Greek American middle class which allows for significant investment in cultural preservation (such as participating in FDF). This longing to construct "authenticity" is driven by the discourse of roots (and routes), where the "deep" past is accessed and activated through the mediation of a network of professional dance instructors, musicians, folklorists, and costume makers, all connected with a transnational, capitalist cultural industry. Authenticity in FDF performances is highly desirable, in fact, "ethnic quality" accounts for 35% of a group's score (the other categories are presentation, preparation, and costuming) (GOFDCF 2020). Achieving authenticity (and potential success) is now part of the transactional nature of the FDF experience where parishes may spend considerable funds to hire folklore experts to hold dance seminars, invest in researching and sewing (or renting) traditional costumes, and pay to bring musicians from Greece to play live during the performance. Although the positive effect of promoting and preserving these cultural forms is significant, the desire to be authentic can also lead to an arms race between competing parishes and expose economic inequalities between wealthier communities and those with more limited funds.7
As mentioned earlier, there is a significant financial burden to attend FDF, one that is shouldered primarily by the families themselves. Although some parishes do fundraise to help parents pay the $350 per-dancer registration fee, it is expected that families will cover the costs. Many families have more than one dancer and combined with an average hotel bill of $600-800, transportation, and food, the expenses add up quickly. In addition, some dance groups charge their own fees for joining and also additional fees for costumes, musicians, and workshops. Parishes in Southern California have the advantage of proximity hosting 31 of the 44 FDFs, minimizing their travel time and cost while other parishes, such as Seattle and Honolulu, carry a greater financial burden. It is also not unusual for working parents to take vacation time to travel to FDF which for some, is a five-day excursion.
FDF is very much a middle-class experience in that working class families are potentially excluded from participation. Some financially strapped parents will ask for assistance from their parish priest or council, although there is a degree of shame and embarrassment attached to this option, while others send just their dancer in the care of another family to curb expenses and not miss work. As one parent commented, "We couldn't say no but we also couldn't all afford to go. Our daughter would have been heartbroken to miss out. We were lucky another family offered to take her and our dance group raised money for everyone's registration." FDF is a form of conspicuous consumption, displayed not only in having the financial means to attend, but also the parade of brand name clothing and accessories worn by dancers and parents during the parties and banquets, and the costs associated with performing. Additionally, FDF fits the suburban narrative of the overscheduled child and has parallels with high-intensity youth sports. Participating in FDF and Greek dancing, like other extracurricular activities, is part of an upwardly mobile success strategy and included on college applications and resumes as community involvement and service. Dancers have asked me on numerous occasions for letters of recommendation for college, part-time jobs, internships, and scholarships.
The middle-class aspirations and values on display at FDF coexist with those promoted by the Greek Orthodox Church. As a ministry of the Greek Orthodox Metropolis of San Francisco, the clergy is highly visible and present, their collective gaze watchful.8 All dancers are required to be in good standing with the church (vetted by their dance director and parish priest) and attend a mandatory, age-appropriate religious workshop during the FDF weekend. Church affiliation is the most significant barrier to participation for secular Greek American families who do not belong to a parish. At FDF 2017, workshop titles included "How Drawing Helps Us Listen to Jesus Christ," "Endangered Species: The Christian in the City," and "Dear Orthodoxy, How Do I Young Adult?" (GOFDCF 2017). Optional parent workshops cover themes such as discipline without drama, family prayer, and emotional intelligence. The Church capitalizes on FDF's popularity and captive audience to promote the Orthodox religion, family, community, and service. A good example is the relatively recent addition of the Diakonia Project, where dance groups organize a service project such as feeding the homeless, cleaning up the environment, or assisting families in need with clothing and school supplies. A parent noted that service, religion, and class were connected, "Sometimes I feel guilty when I think about how much money is spent on FDF, we are supposed to be Christians first. I'm glad we do the Diakonia projects because now our kids understand a bit better that others have a lot less."
The success of FDF as a religious ministry is noteworthy considering the general downward trend among young Americans and their participation in organized religion (Pew 2019). FDF parents, many who grew up second or third generation in the 1970s and 1980s, note that it was more common to downplay their religious and ethnic identities in school and to their American friends. Their children, however, are more confident in sharing both their religious and ethnic affiliations outside of the Greek American community. In multicultural California there is currency in being "ethnic" and folk culture is viewed with pride, not embarrassment. There are few, if any, negative social or political consequences to being an ethnic Greek American in California today. FDF boosts ethnic and religious solidarity which carries through to life beyond the church and Greek community. For example, our dance groups are regularly invited to perform at multicultural festivals often held at local schools. The dancers, some as young as elementary school age, notice they are typically the only performers of European ancestry and that it makes them feel special to have their culture showcased alongside their Latino, Filipino, Indian, Chinese, Hmong, and Samoan classmates.
Although FDF existed long before social media and the Internet, their effects are profound. The use of websites and YouTube for research into dances, songs, and costumes has been a game changer, as well as virtual dance workshops with experts (Papakostas 2016). People around the world can now watch FDF livestreamed on YouTube and announcers will often give "shout outs" to those posting to social media between dance performances. While generational differences in social media use may exist (the younger participants favor Instagram over Facebook for example), the outcome is the same—a sense of connection to Greeks all over the world and validation that FDF is an authentic expression of Greek culture, further validated by cultural and folklore experts who judge the competition. Connecting operates on several virtual levels, linking friend networks throughout the western United States which are reinforced through other church sponsored in-person activities like summer camp and youth groups to sharing of the FDF experience to the global Greek imagined community through Twitter, photos and video clips on Instagram, or Facebook posts. As one might expect, the response to FDF in other parts of the Greek diaspora is quite positive, with messages of praise for preserving the Greek culture.9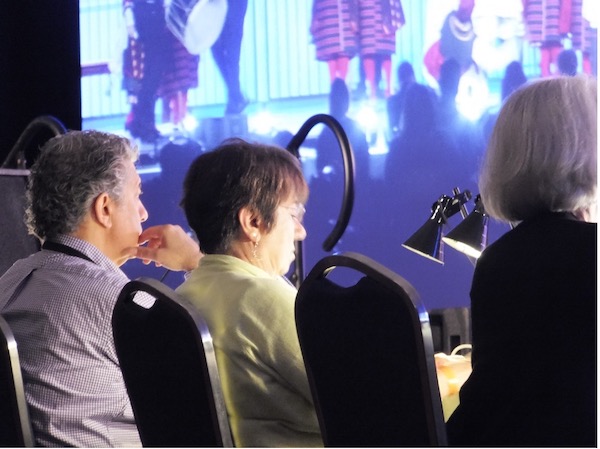 On Usable Pasts and Cultural Becoming
Over the course of forty-five years, FDF has become a defining event in the West Coast Greek American experience and incredibly powerful for social memory and community building. In part, the power of FDF is how it creates a usable past by evoking the cultural traditions and practices of 18th and 19th century Greece and Asia Minor. Usable pasts bring selective elements of history and tradition into the contemporary moment and are reworked or shaped to create a certain ethnic imagination (Anagnostou 2009). FDF's usable past, framed by an idealization of traditional village life, is then embodied by how it is taught, practiced, and performed primarily by children and young adults each year for FDF (GOFDCF 2020).10 The acceptance of these idealized village scenarios as authentic provides a continuity with an imagined past that is both deep and instrumental for community formation. Donning traditional costumes, singing folk songs, and joining hands in dance bring this version of the past to life, in a type of cultural becoming, that is reinforced by participation in the contemporary Greek Orthodox parish community. Dance, because of its "visceral sociality" (Potter 2014, 216), in that it effects the physical body and emotional state, is a powerful conduit for memory, more so than perhaps sitting through weekly Greek language lessons. In other words, the themes associated with FDF's usable past—Orthodox Christian values, national connectivity with Greece, traditional family, gender norms, and community—exemplify what these parish communities hope to instill in the youth today.
It is remarkable that FDF's usable past expands and deepens, even as west coast Greek American communities (particularly small and mid-size communities) experience demographic shifts beyond the founding immigrant generation. These shifts, measured by intermarriage and Greek language loss, were long believed to signal the end of ethnicity but instead are tempered by new ways of engaging with ethnic identity and a redefinition of what it means to be ethnic at all. The boundaries of Greek ethnic identity—including residential clustering, Greek language proficiency, endogamy, and the Orthodox Christian religion—established through early and mid 20th century migration and community building, may provide an institutional foundation for today's Greek American youth, but do not completely define their experiences as they did for previous generations. Born after 1996, Gen Z is digitally savvy but also suspicious of social media and associated lack of privacy, they are politically more liberal in their views on issues such as racial equality and same-sex marriage, and less likely to be bound by traditional markers of gender identity (Parker and Igielnik 2020).
In California and the west in general, Gen Z is now 40% non-Hispanic white and their experiences are framed by the ideologies of multiculturalism and inclusion rather than the melting pot. For example, about 60% of Gen Z believe official documents should include additional gender options beyond male and female (Parker and Igielnick 2020). Even ancestral language retention, one of the most important markers of ethnicity traditionally is seen as less essential by this generation.11 One study of Gen Z Latinos, for example, notes that 76% between the ages of 18-35 do not believe speaking Spanish is necessary for being considered Latino (Lopez, Krogstad, and Flores 2018). This perspective is evident among the Gen Z Greek Americans I have observed as well, most of whom do not have basic Greek language skills.12 Unlike their second-generation Generation X parents and the immigrant grandparents who enforced a stricter and perhaps more narrowly defined version of Greek identity, Gen Z is confident in its hybridity and flexible interpretation of what it means to be Greek. In their fluid world, there is no one way to be Greek, and the hierarchies of ethnic markers (language in particular) have been flattened.13
Gen Z's ethnic markers are based more in communal experiences and spaces that allow for hybrid and fluid identity. This generation values inclusivity and sees ethnicity in broad strokes, rendering particular ethnic markers like language proficiency as less necessary for a Greek American identity. For West Coast Greek American youth, formative experiences happen in the safe and curated spaces of FDF, Greek Orthodox summer camps (whether at Saint Nicholas Ranch in California or Ionian Village in Greece), and the church or Greek school classroom. This generation views these experiences as enough to validate their Greekness, perhaps in part because their parents hesitate to enforce the more bounded rules of their own upbringing. A second-generation mother of Gen Z teenagers noted,
As kids in the 1980s we'd get punished for not doing well in Greek school and those of us who didn't have a knack for the language or regular interaction with a Greek speaking parent or grandparent felt bad, like we were less and it was shameful. My kids didn't go to Greek school, but they feel Greek in other ways, and the other kids don't judge them. I would never tell them they were "less Greek" because they didn't speak the language.
The confidence of Gen Z to chart their own ethnic identity may also challenge the long-standing contestation between homeland Greeks who see their Greek diasporic counterparts as "less than Greek" and those in the diaspora whose adherence to usable pasts and traditional values insist they are more Greek than those in Greece. In a break from this narrative, Gen Z finds this argument of little use since their version of Greekness is not hierarchical nor do they prioritize one form of expression over another. In other words, the arguments of previous generations over who is "more" Greek makes little sense to a generation that embraces hybridity and refuses to judge itself on what it might lack (such as language skills) to what it does have such as communal experience and virtual social networks. As Yiorgos Anagnostou notes, "Ethnicity can be imagined in terms of positions wherein the categories of immigrants, ethnics, diasporics, and postethnics though differentiated by class and cultural fault lines, are no longer distinct and hermetically sealed off from one another" (2009, 227). The intercultural zones in which Gen Z Greek Americans inhabit, as exemplified by the FDF experience, is further evidence that one ethnic Greek culture does not exist; instead, the dynamic process of cultural becoming happens at the juncture of systems of difference.
Societal shifts, generational trends, and the dynamic nature of FDF's usable past as performance also highlight certain contradictions within this particular Greek American narrative. The framing of FDF as a church ministry and linking folk culture indelibly with religion creates highly regulated scripts for participants to follow with little boundary crossing. Perhaps nowhere is this more apparent (and entrenched) than in the enforcement of heteronormative behavior, there is simply no space for different types of sexual or gender expression at FDF. While this may seem obvious at an event sponsored by the Greek Orthodox Church, it is worth noting that the young Gen Z participants are more likely to be gender fluid (or know someone who is) and accept gender as a spectrum (Parker and Igielnik 2020). Their values of inclusion contradict what the church is teaching and could set the stage for cultural ruptures in the future. Because the Greek Orthodox Church is unlikely to soften its views on non-heterosexual behavior any time soon, Gen Z Greek Americans may grapple with the limitations of FDF's narrative as a usable past that speaks to their lived experience.14
Although institutions such as the Greek Orthodox Church and the parish organizations it supports may be slow to change, the experiences of Greek American/Greek Orthodox youth in California highlight the nimbleness of their generation to move confidently between cultural landscapes in ways that previous generations of Greek Americans may have found disconcerting or outside the prescribed limits of Greek identity. For example, at one FDF I noticed a young person wearing a t-shirt with the slogan "Love is Love" illustrated in rainbow colors. I thought this was a brave choice considering the Greek Orthodox Church's stance on sexuality is solidly heterosexual. I pointed the t-shirt wearer out to my dancers and asked them what they thought about its message given the church's views. One teenager spoke up while the others nodded in agreement, "We can take it and leave it." When I pressed for an explanation another teenager replied astutely, "I love being Greek Orthodox, but I don't take all the church teachings. I can leave the ones that are hurtful. It's my choice." In other words, these teens loved the community and fellowship created by FDF and other church ministries, but their world views are informed by a broad lens of inclusion tempered, for example, by changing societal attitudes about LGBTQ rights.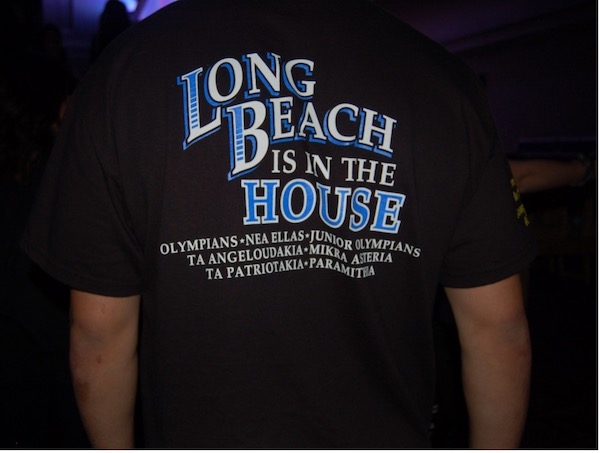 To situate the FDF phenomenon within the contemporary moment requires a reimagination of the global Greek experience to include the ways in which young people negotiate the intersections and contradictions of their identities. Aligning their values with social justice causes such as LGBTQ rights and Black Lives Matter, for instance, is to join the mainstream of their generation in supporting inclusion, antiracism, and multiculturalism. In perhaps a response to the growing critical reflection about white privilege, some Gen Z Greek Americans view their ethnic identity as more like the experiences of their Latino and Asian American friends than their white American counterparts. I have heard young Greek Americans describe how they feel greater affiliation with their friends who come from immigrant backgrounds (largely Latino, Indian, Vietnamese, and Hmong in California's Central Valley) because their families behave similarly as opposed to the families of their suburban and rural white friends.15 Their ethnicity is further disentangled from established symbols of Greekness, and perhaps less urgently pursued than previous generations, because the spaces they inhabit are formed at where identity junctures––ancestry, sexuality, gender, class, race, and religion. Far from symbolic, the ethnic narratives of Gen Z Greek Americans are lived through FDF's usable past and the yearly cycle of practice, performance, and fellowship. The choices they make is not whether to be ethnic Greek or Greek Orthodox, but instead to insert Greekness into their lived experiences.

Anastasia Panagakos is a Professor of Anthropology at Cosumnes River College. Her work on the Greek diaspora engages with themes of gender and marriage, transnationalism, technology, tourism, spatial geographies, and youth culture. Her publications include "Faith, Dance, and Intentional Fellowship in Contemporary Diasporas" in Religious Diversity Today: Religion Transforming Society and Social Lives (2016), "Tourist, Local, or Other?: Greek Canadian Women and the Heritage Fling in Greece" in Gender, Place, Culture: A Journal of Feminist Geography (2014), and "Mapping Greektown: Identity and the Making of 'Place' in suburban Calgary" in Claiming Space: Racialization and Spatiality in Canadian Cities (2006). Her most recent ethnographic fieldwork, on the Greek Orthodox Folk Dance and Choral Festival, spanned from 2013-2020. She has served as a Greek folk dance director for parishes in Elk Grove, Stockton, and San Jose, California as well as Calgary, Alberta, Canada. At FDF 2020 she was awarded the Nick Varvitsiotis Memorial Dance Director's Award for Division 1.
Images: All photos are courtesy of the author (see also Image Gallery).
Additional photos from FDF can be viewed at https://www.yourfdf.org/photos/

Notes
1. The syrtos is one of the most well-known Greek folk dances and variations of this dance can be found throughout the country. Along with the tsamikos, hasaposervikos, and hasapikos, it is widely danced at food festivals, weddings, and community celebrations.
2. Greek folk dance groups participate in smaller scale dance competitions in other places including the Hellenic Dance Festival (HDF) of the Metropolis of Atlanta and the Midwest Hellenic Dance Festival of the Metropolis of Chicago, both modeled after FDF. Groups, such as the Hellenic Dancers of New Jersey (established in 1972), have participated in the New Jersey State Ethnic and Diversity Festival and received top prize at the Garden State Arts Center Intra-State Competition.
3. Kefi is used to describe the joy or spirit of life, a feeling of extreme positive emotion that overtakes the body, often as singing and dancing. Kefi is a type of exuberance linked to the soul and a mode of powerful social connectivity with the participants. Greeks believe it to be a quintessential part of what makes them unique from other ethnic groups.
4. The breakdown of parishes participating in FDF 2020 (held in Anaheim) were as such:
• 22 from California as a whole (8 from Northern California, 2 from Central California, 12 from Southern California).
• 7 from outside California but still in the Metropolis of San Francisco–– Portland, Seattle, Honolulu, Phoenix, Tucson, Chandler/Scottsdale, and Las Vegas.
• 1 "visiting" group from Port Washington, New York
3 parishes brought six groups each (the greatest number)—Pasadena, Belmont, Anaheim––and three parishes brought five groups each—Sacramento, Los Angeles, and Oakland. The Metropolis of San Francisco has 67 parishes and missions, some are very small without youth dance programs or did not send a group in 2020.
5. The annual Oli Mazi magazine published for FDF includes advertisements for many other ministry opportunities, along with specific information about the competition, such as biographies of judges, testimonials by participants, and greetings from church hierarchs. Information about FDF, photos, rules and regulations, past winners and PDFs of the Oli Mazi magazine dating back to 2009 can be found in this website. (www.yourfdf.org) FDF dance performances, Liturgical services, montage videos, and the opening and awards ceremonies can be viewed at the FDF Live YouTube channel. https://www.youtube.com/channel/UCn1Q8lTrwD2764GxbCkUzmA
6. For the expanding of public space for performances of identity through dance see also Yiorgos Anagnostou's "Spectacular Incorporations: American Sports, Ethnic Heritage Night, and Greek America" (2019).
7. There is a transnational circuit of dance instructors and musicians who are hired to conduct workshops and perform. Given the cost, several parishes may share the expenses and FDF sponsors occasional workshops with professional instructors, charging a small fee to participants. FDF also regulates how and when groups may work with instructors who serve as competition judges, to lessen the appearance of an unfair advantage. The judges have an impressive array of experiences, research and education––the biographies of the FDF 2020 judges may be found in Oli Mazi 2020 (pages 52 through 57). https://www.yourfdf.org/wp-content/uploads/2020/03/OLI-MAZI-2020-FINAL.pdf
8. Hierarchs such as Metropolitan Gerasimos and Archbishop Elpidophoros of America are treated like celebrities by FDF participants and usually have an entourage of people around them. Metropolitan Gerasimos encourages social media use by taking selfies with the dancers and makes a point to dance with the youngest groups who participate in an exhibition category and do not compete.
9. Social media platforms have enhanced praise for FDF among other diasporic Greek communities and in Greece, however, prior to social media this phenomenon still existed. It is a common theme among FDF participants in pre-social media times to note with pride that when visiting Greece they were praised for keeping traditions alive through song and dance, because supposedly young Greeks had little interest in folk culture, wanting instead to be "modern."
10. Out of the 99 dance groups performing at FDF 2020, 87 groups had an average age of 20 or younger with the greatest concentration of groups between the ages of 5 to 16:
17 groups averaged ages 5-7
20 groups averaged ages 8-10
18 groups averaged ages 11-13
22 groups averaged ages 14-16
8 groups averaged ages 17-19
5 groups averaged ages 20-22
6 groups averaged ages 23-25
3 groups averaged ages 26 and older
11. Alexander Kitroeff (2019) describes how the Greek language became a contested symbol of Greek identity in the United States and its implications in "Greek America's Liturgical Language Crisis of 1970."
12. In the two mid-size Greek American communities I have studied, neither have been able to maintain a consistent Greek language program. A small percentage of parents will send their children to another, larger parish's Greek school, or use online Greek language lessons. The majority of parents, however, have given up on trying to have their children learn Greek, instead putting their efforts in Greek dance, parish sports teams, or religious instruction.
13. Hybrid and fluid ethnic identities are apparent among the children and young adults I have observed in the dance groups. For example, the majority of dancers had at least one non-Greek parent or no Greek ancestry at all, but are instead Orthodox Christian and attend the church (including of Syrian, Palestinian, and Romanian ancestry). Greek dancing, as an activity, unifies the youth regardless of ancestry under a "spirit of Hellenism" and lessens some internal diversity found within parishes (Preovolos, et al. 2019).
14. The exclusion of non-Greek Orthodox youth in FDF is a byproduct of linking a cultural practice, like dance, with a religious institution. The situation is much more nuanced on the ground at local parishes since the FDF rules state that a dancer must be "in good standing" with the church, the parameters of this requirement open to interpretation. Good standing can mean different things, for example, non-baptized dancers have participated if their families pay stewardship dues to the church (although they may not attend). At our parish, there are rules that dancers must attend church regularly during the FDF season. There is virtually no participation by children whose parents are not raising them in the church (the size and significance of this population, however, was outside of my research focus).
15. The affinity with friends who come from immigrant backgrounds is a source of bonding for young Greek Americans, particularly when discussing the behaviors and expectations of their parents and grandparents (such as language barriers, pride in ancestry and family traditions, educational attainment, and religious beliefs). By comparison, Greek American youth juxtapose themselves as different than their white American friends who often are stereotyped as having "no culture" or, given the proximity of the Greek communities I have studied to rural areas, as "rednecks." Some also highlight the ways in which Greeks were historically oppressed by both the Ottoman Empire and more recently western Europe as a way to distance themselves from dominant white American culture.

Works Cited
Anagnostou, Yiorgos. 2019. "Spectacular Incorporations: American Sports, Ethnic Heritage Night, and Greek America." Ergon: Greek/American Arts and Letters. Accessed 19 February 2021. ergon.scienzine.com/article/essays/spectacular-incorporations
Anagnostou, Yiorgos. 2009. Contours of White Ethnicity: Popular Ethnography and the Making of Usable Pasts in Greek America . Athens, OH: Ohio University Press.
Chryssanthopoulou, Vasiliki. 2008. "The Role of Dance in the Formation of Ethnic Identity among Diaspora Greeks: A Case Study from Australia." Greek Dance Archives. Accessed 17 December 2020. www.dancearchive.gr/English/article.php.
Greek Orthodox Folk Dance and Choral Festival. 2017. "All For One." Oli Mazi Magazine 41. Metropolis of San Francisco.
Greek Orthodox Folk Dance and Choral Festival. 2020. "Director's Manual." Accessed 28 August 2020. www.yourfdf.org.
Greek Orthodox Folk Dance and Choral Festival. 2020. "Focus." Oli Mazi Magazine 44. Metropolis of San Francisco.
Issari, Philia. 2011. "Greek American Ethnic Identity, Cultural Experience and the 'Embodied Language' of Dance: Implications for Counseling." International Journal for Advances in Counselling 33: 252–65.
Kitroeff, Alexander. 2019. "Greek America's Liturgical Language Crisis of 1970." Ergon: Greek/American Arts and Letters. Accessed 24 November 2020. ergon.scienzine.com/article/articles/liturgical-language-crisis-of-1970
Liddle, Valerie. 2016. "Pontic Dance: Feeling the Absence of Homeland." In Emotions, Senses, Spaces: Ethnographic Engagements and Intersections . Edited by Susan R. Hemer and Alison Dundon, 49–66. Adelaide, Australia: The University of Adelaide Press.
Lopez, Mark Hugo, Jens Manuel Kronstag, and Antonio Lopes. 2018. "Key Facts about Young Latinos, One of the Nation's Fastest-Growing Populations." Pew Research Center: Fact Tank. Accessed 18 November 2020. www.pewresearch.org/fact-tank/2018/09/13/key-facts-about-young-latinos/
Panagakos, Anastasia. 2016. "Faith, Dance, and Intentional Fellowship in Contemporary Diasporas." In Religious Diversity Today: Religion Transforming Societies and Social Lives. Edited by Jean-Guy Goulet, 229–52. Denver, CO: Praeger.
Papakostas, Christos. 2016. "(Re)Searching in the (You)Tube: Digital Archives and Dance Practices." Congress on Research in Dance Conference Proceedings, 292–98. Accessed on 5 May 2020. doi:10.1017/cor.2016.65
Parker, Kim and Ruth Igielnik. 2020. "On the Cusp of Adulthood and Facing an Uncertain Future: What We Know About Gen Z So Far." Pew Research Center: Social and Demographic Trends. Accessed 3 January 2021. www.pewsocialtrends.org/essay/on-the-cusp-of-adulthood-and-facing-an-uncertain-future-what-we-know-about-gen-z-so-far/
Pew Research Center. 2019. "In U.S., Decline of Christianity Continues at Rapid Pace." Pew Research Center: Religion and Public Life. Accessed 5 December 2020. www.pewforum.org/2019/10/17/in-u-s-decline-of-christianity-continues-at-rapid-pace/
Potter, Caroline. 2014. "Making Culture Through Dance." In Globalization, Tourism, and Identity in the Anthropology of Dance. Edited by Helene Neveu Kringelbach and Jonathan Skinner, 211-218. New York, NY: Berghahn Books.
Preovolos, Peter E., Patti Testerman, and Glenn Burris (producers) and Patti Testerman (writer/director). 2019. Kefi: The Story of FDF, the Greek Folk Dance Festival. United States: Web of Culture Productions.