Yiorgos Stavroulakis Remembers his Great Uncle, Louis Tikas
"How will I recognize you?" I asked Yiorgos Stavroulakis over the phone just before my trip to Greece in May, 2022. "You can't miss me," he said. "I have a thick mustache that covers half my face." And so, it does.
When I approach the "Public" building on Syntagma Square in Athens, he stands as in a painting, framed by the door. He too recognizes me and beckons from the distance. After he introduces me to his daughter, a documentary filmmaker, we take the elevator to the café at the top floor.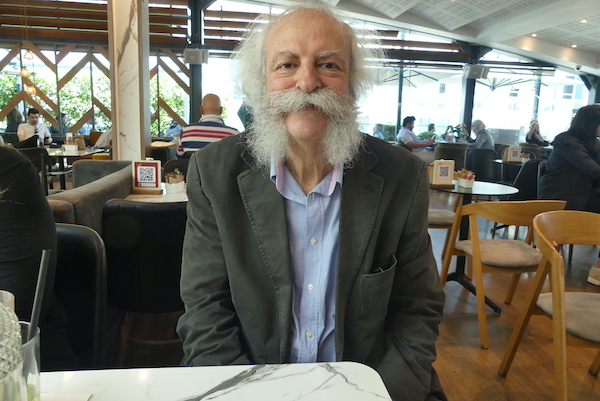 I sought out Yiorgos Stavroulakis because I had started a project with Y. Anagnostou on the Greek American labor activist, Louis Tikas (Ilias Spantidakis 1886-1914). And we had discovered that Yiorgos was a grand nephew of the Greek American hero.
As I sit down, I try to analyze Yiorgos's facial features to discover any similarities between him and his great uncle who was killed at the age of 28 in the cold plains of Ludlow, Colorado. A man in his mid-seventies, he has a full head of silvery hair and his eyes sparkle with energy. He is obviously much taller than Louis, who had declared officially in Denver that at 24 he was 5' 8 and 151 lbs, with dark hair and brown eyes. The photograph that the family had of Louis and the one remarkably that was found in Louis's pocket when he was murdered, shows a youth with a thin mustache, hair parted on the left and the strings of a fez, hanging down on his right. He is wearing fancy garb with a vest and a pistol stuck inside. Unsmiling, he seems ready for battle.
Yiorgos is eager to talk about his famous relative and about his own decades-long campaign to commemorate Tikas and preserve the family house in Loútra, a village near Rethymno in Crete. He even wrote a book about him, the first in Greece, which tried to bring to a Greek audience the life, struggle, untimely death of Louis, and, of course, his posthumous heroism. For Louis was clearly a young man who rose to the occasion and met destiny head-on.
We will never know if Louis himself had understood his own fate, that one day he would make the choice between life and death. But his brother, Kostis Spantidakis, Yiorgos's grandfather, certainly did. Louis was a "born revolutionary," Yiorgos declares, reaffirming the impression I had from the early photograph. As he tells it, his grandfather had accompanied Louis to Rethymno by horse from where Louis took the boat to Piraeus. But, on his way home, Kostis was overwhelmed by premonitions of doom and, when he returned home, he told his wife, "Argyro, this man will one day either become a great man or he will end up destroying himself (θα φάει το κεφάλι του). And we will lose him." And when he arrived home from the fields one afternoon in the spring of 1914, his wife told him, "Kosti, a telegraph has arrived from America about Ilias." Fixing his eyes upon her, he simply whispered, "I expected this." His premonition was right. Through his boldness and bravery, Louis had indeed met his fate.
Louis's brother could in no way understand the ramifications of this tragic death, that one day Louis would come to represent the struggle of the Colorado miners for higher wages, better working conditions, and a semblance of dignity. Social, political, and cultural forces were gradually converting the once peasant turned miner and labor organizer into a symbol of struggle against injustice.
Zeese Papanikolas in his remarkable book, Buried Unsung. Louis Tikas and the Ludlow Massacre (1982) first explained how Ilias, the young immigrant, became Louis Tikas, the fighter for labor and national hero. Gradually Tikas began to attain a story, which, given the paucity of information about him, was based partly in reality and partly in the imagination. He was turning into a champion, a saint.
Tikas's untimely death on Easter Orthodox Sunday of 1914, his youthful body, lying head-down on the ground next to the railway tracks in Ludlow, launched a process of memorialization and sacralization. And in time, the young man was resurrected as a Greek American legend and national labor icon. Indeed, images of death and rebirth feature prominently in the iconography of Tikas, lamentation and despair giving rise to songs of defiance, remembrance, and redemption.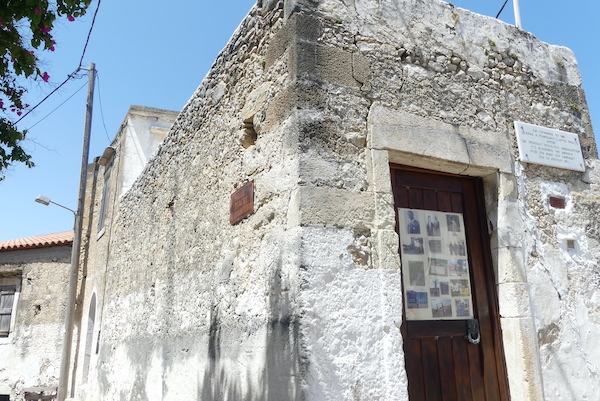 And Yiorgos has taken it upon himself to make sure that Tikas will live forever in our collective memory. His main concern now is to preserve the family house in Loútra. "When you go to Loútra, you will see that it is in need of repair." When I visited the house with my wife a couple of weeks later, I saw what he meant. A triangular structure at the edge of two streets, it seems squeezed by them, into the shape of a Delta, with a mill on the first floor and family quarters on the second. It now serves as a museum in waiting. Yiorgos has placed a plaque outside and photographs of his uncle along with pictures from the annual commemoration of the massacre in Ludlow.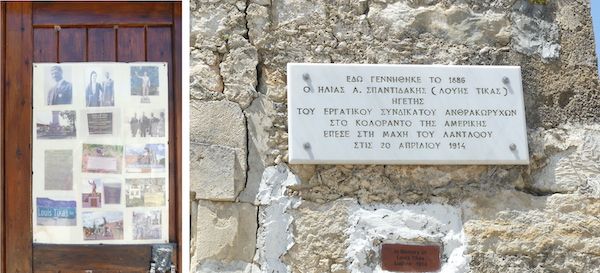 Standing outside this house, I could understand Yiorgos's impatience––the house could collapse at any moment. After investing a considerable amount of his own money to keep it from falling apart, he has been looking for funds to save it and convert it into a proper museum. Before I left, I brushed my fingers against the stones of one wall, repeating the same action two months later along Tikas's red granite tombstone in the Trinidad cemetery, which honors Tikas as a "victim of the Ludlow Massacre," an "organizer for the UMWA," and a "patriot."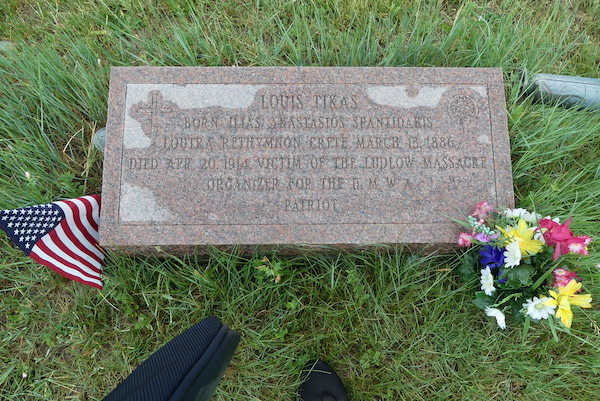 I try to conjure the photograph in the Trinidad museum of a mile-long cortege leading from the Trinidad city center to the cemetery. The miners were moved by this terrible injustice and gathered to honor one of their own.
Could they, like Tikas's brother, have understood that he was destined for greatness? Could they possibly have imagined that Tikas would come one day to symbolize the death and revival in Ludlow? Unlikely. Who could possibly have predicted that Greek Americans from Denver would erect the statue of Tikas in Ludlow or that a bust of his youthful image would be installed in the port of Rethymno? Could anyone possibly have foreseen that, when the then Bishop of Denver, now Metropolitan Isaiah, looked up at the ceiling of the new offices of the Metropolis, he would conceive the idea of panels telling the story of the Greeks in the west, like a frieze in an ancient temple, and that one panel would feature Tikas and the Ludlow Massacre?
Both Tikas and Ludlow live on in the songs of Woody Guthrie, the paintings of Lindsay Hand, the icons of Gigas Teras, the play "Ludlow: El Grito de las Minas" [Ludlow: The Cry of the Mines] by Tony Garcia, and the many exhibits around Colorado. This is why Yiorgos is not lachrymose when he speaks to me. His eyes beam with vitality and promise. Undaunted, he moves ahead with plans about the museum. He wants to make sure that Tikas continues to move us.
Gregory Jusdanis teaches Modern Greek and Comparative Literature at Ohio State. His biography of the Greek poet C. P. Cavafy, co-written with Peter Jeffreys, will be coming out with Farrar Straus and Giroux in 2023.