Profiles of Ludlow
Although not known by the general population, Ludlow, Colorado marks one of the most notorious examples of open class warfare in American history. On April 20, 1914, an eight-month long strike for basic labor rights by 1,200 miners and their families, mostly immigrants, was violently ended by the National Guard and mine guards in the coal fields of Colorado. The strikers' tent colony, set in Ludlow, was machine-gunned and burned to the ground, an act of violence, which left over twenty people dead, including women and children. Louis Tikas, an immigrant from the island of Crete and organizer for the United Mine Workers of America (UMWA) union, was shot in the back in cold blood, as were two other strikers. One of the bloodiest chapters in American labor history, the Ludlow Massacre reveals the power of state and capital to brutally put down labor. But it also stands as a key symbol of working-class struggle and sacrifice against exploitation.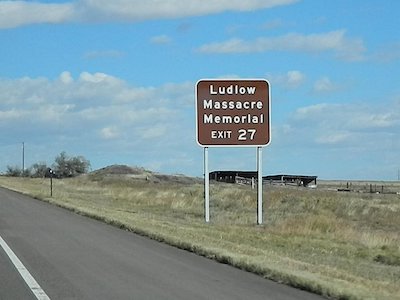 In the summer of 2022, we visited southern Colorado to investigate the making of public memory about the massacre and its significance. We attended the annual commemoration of the massacre at the Ludlow site, spoke with the organizers, met with people involved in the event, visited museums, reflected on statues and memorials, carried conversations with museum directors, activists, artists and scholars.
We were drawn to these individuals who are deeply devoted to Ludlow's public memory. Scattered across the region yet densely connected with a common mission, these union representatives, playwrights, musicians, poets, fiction writers, artists, scholars, museum directors, and activists labor to keep the memory of the tragic event alive by explaining the purpose of the strike and underlining the relevance of working-class struggle in the past for today's realities. Set in a variety of institutions such as the museum, the community theater, the college classroom, the art gallery, the bookstore, and the church, these people commemorate Ludlow through theatrical reenactments, books, paintings, the display of artifacts, song performances and murals.
Wishing to recognize their work and commitment toward this important political project, we would like to offer a few portraits of these individuals and share with our readers trajectories of their lives, the meanings they attach to Ludlow, and the motivation that drives their involvement in memory-making.
We commence with the profile of Bob Butero, a labor leader, who organizes the annual commemoration of the Ludlow Massacre in Ludlow, Colorado. In the subsequent months, we will be posting additional profiles.

Yiorgos Anagnostou teaches at Ohio State University. His work on Ludlow includes an article, a book chapter, and a blog.
Gregory Jusdanis teaches Modern Greek and Comparative Literature. His biography of the Greek poet, C. P. Cavafy, co-written with Peter Jeffreys, will be coming out in 2023 with Farrar Straus and Giroux.
Cover image: Ludlow Massacre Monument, Colorado
"Profiles of Ludlow" Series
Bob Butero: Moved by the Movement (Gregory Jusdanis)
Yiorgos Stavroulakis Remembers his Great Uncle, Louis Tikas (Gregory Jusdanis)
Lindsay Hand: Bringing Ludlow to Life (Yiorgos Anagnostou)
Tony Garcia and the Cry of the Mines (Gregory Jusdanis)
"For you, Louis." Zeese Papanikolas Writes Louis Tikas (Yiorgos Anagnostou)