The Creation of a Community Archive
Kathy Korbakes and Peter Korbakes
In November 2017, the St. Spyridon Greek Orthodox community celebrated its centennial anniversary in Palos Heights, Illinois. Few months later, in October 2018, a lavish, 304 page long commemorative album was printed to accompany this historical milestone of the community. Kathy Korbakes was the general Head of the Book Committee and Peter Korbakes the Chair of the History Committee. This album, as other books of the same genre, presents local community history. However, what distinguishes it from other albums is that it intentionally refrains from including advertisements, featuring, instead, personal stories of community members. In this manner, the album creates a valuable community archive consisting of parishioners' narratives spanning 100 years.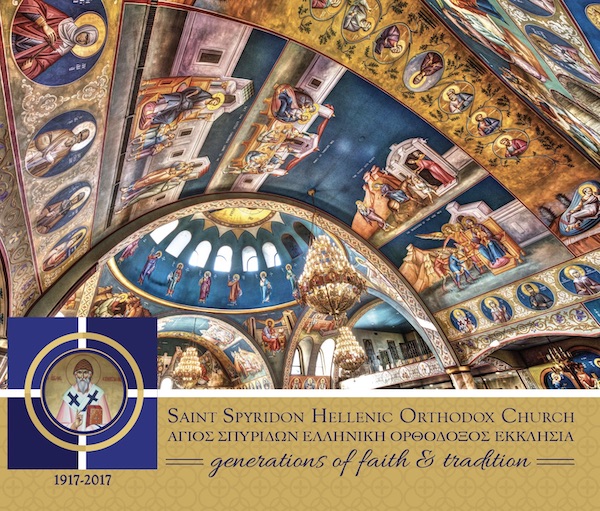 For the purpose of understanding the process of the production, distribution and reception of the album as well as its significance for the parishioners, I conducted oral interviews with both Ms. and Mr. Korbakes in the Fall 2020, followed by an extended written interview in January 2021. Below is an edited version of the written interview.
Maria Kaliambou is Senior Lector at the Hellenic Studies Program at Yale University.

Kathy Korbakes, General Head of the Book Committee
MK: Could you share with us a few words about yourself, your profession, your interests, your role at the community? What was your personal motivation to participate in this project ?
KK: I am first generation Greek American. My husband and I have been parishioners at St. Spyridon since 1988. We have two sons who grew up at St. Spyridon, which served almost as a second home. I always felt the universal Greek philoxenia and philotimo by the St. Spyridon parishioners and clergy. Perhaps that's why I was so passionate about the project: this medium sized parish has always reminded me of the small parish in Dubuque, Iowa, where I grew up.
Since I was somewhat of an outsider, not growing up in this parish, I could look at our parish a little more objectively. I saw many differences in small, medium and large parishes in the Chicagoland area based on demographics, location, and cultural factors. Each parish had their own distinct "personality." Therefore, I felt very strongly that this often-overlooked parish had a big story to tell. I wanted to help present that story in a creative and memorable way. Simply put, I was very passionate about sharing our story.
MK: Could you give us some background information regarding the production of the book? How did the idea come about? Who decided to produce the book and why? What committees were formed in order to facilitate the production? What were the criteria for choosing Chairs for the committees? Please help us understand the process toward the fruition of the book .
KK: The idea for the book came from Father Tilemahos Alikakos as well as our then Parish Council President Jim Korbakes. Only one committee was necessary for the production of the Anniversary Book. I was asked to head the committee and be the main editor. I think because of my background in marketing and journalism, I had the skills to organize the project and motivate our committee. We then formed the History sub-committee, led by Peter C. Korbakes, and the Finance subcommittee led by an accountant and self-employed businesswoman.
We wanted a quality material book that looked high end, but on a tight budget. Our requirements were for a hardcover book that would be durable and long lasting, with page quality and use of color throughout. A very good Greek American photographer took pictures of our beautiful, just completed iconography. It was easy to decide on the cover front and back with his beautiful photos. The book was divided into sections: cover and back cover, letters of congratulations, clergy, parish council presidents, history of the parish, organizations and their history, spiritual life, parish life, and personal family stories.
Our graphic designer was extremely creative and in an unbroken bond with the historical editor and me. Aesthetically, the book is colorful and inviting to read. The front and back cover offer a beautiful perspective of the interior of the church, whereas the inside photographs show the vision of our founders. Careful detail was even taken with adding Orthodox symbols throughout to remind the reader of our faith. The book is in the wider landscape format, which served us well to showcase timelines, personal stories and pictures in a different perspective.
Before the publication our graphic designer and I created a colorful marketing tool to promote the Anniversary Book, in order to provide assistance to parishioners to write their story, and to explain why it was important to be a part of the history in the making.
We had to reach out to past clergy, and to dignitaries ranging from His All-Holiness Patriarch Bartholomew to the mayor of Palos Heights for their letters of congratulations. We wanted the festivities from the anniversary week and the Gala in November 2017 to be included in the book, thus we printed it in October 2018 and distributed in November 2018, almost a year after the anniversary.
This project was a more than three years undertaking. At many times exasperating, other times thrilling, or a real eye-opener! Since I did not grow up in this parish, I was completely immersed in the history which I found very fascinating. I got to know many parishioners through their pictures, reading about their achievements, hardships and joys. It was so important to share these stories with everyone! I am so proud that our parish has preserved our traditions of faith and culture through the generations. This parish was determined and very conscious of not "diluting" our faith and ethnic traditions.
MK: This album is a production from and for the community. Members participated via submissions of personal stories and/or photographs. I noticed that unlike other albums of the same kind, you decided not to feature advertisements. What was the reason behind choosing to solicit personal narratives? What did you aim to achieve through this choice? Are you satisfied with the final result?
KK: Our committee felt strongly that advertisements were a distraction and would take away the sense of togetherness and commitment through the years. Advertisements may come and go, but personal stories would last forever. It was difficult to "sell" to our parish council the fact that we wanted people to share our passion for carrying on our traditions of faith, community and culture through this book. All these personal narratives together built this parish. And each personal narrative was a beautiful story in itself. Each story, whether it began in the villages of Greece or in suburban Chicago, was a unique experience woven with the St. Spyridon community. I only wished that we had more than the hundred family stories! It wasn't until after the book was published that so many wanted to participate.
I am extremely satisfied with our Anniversary Book in so many ways. The parish was an evolving living entity beginning in the urban Chicago neighborhood and moving on to the southwest suburbs of Chicago. I think we succeeded in showing the growth of the St. Spyridon parish. Comparing this book to others that have been published by Greek American communities, I found very few that are in the style that we accomplished. We did get many ideas from another book (the Modesto in California), but with our great team we took it much further to produce a lovely book that will be cherished for years.
MK: Did you offer any guidelines when soliciting the stories? Did you edit their stories, and if so, based on what criteria? Do you have an example to give us?
KK: We did offer guidelines. We needed to explain to them that their story no matter how trivial, was important for the entire community. We asked for stories about the foundation of the parish by their ancestors, or stories they had heard about the early days. Everyone had a different perspective. And there were many interesting details that these individuals remembered not documented in the official history section of the book.
We asked them to share their connection to St. Spyridon: how they became members and why did they choose this parish, or if they were descendants of previous parishioners or first-generation members. We also asked for memories related to their participation in Greek School and Sunday School, in Philoptochos activities, in choir, in the altar, in annual festival, and other organization involvement at the parish.
Photographs were also carefully chosen to represent the family's personal story of their life through the years. Many people were encouraged by me to add to their story. The vast majority of the stories (about 95%) were edited for clarity, for putting details in chronological order, and to fit into the pages. We would discuss together and reevaluate what was important and what took priority for them personally. After each rewrite, a copy was given for permission to proceed with the publication.
MK: Did you notice a common theme or pattern in the stories people chose to send you? Is there a particular story that has stayed with you? Why was it powerful to you?
KK: I couldn't believe how emotional everyone became when writing or telling me their story! Their shyness and discomfort changed as I opened up Pandora's box and stories came out about their youth in small villages of Greece, and their struggle with the choice of leaving patrida and their way to America. I listened as each individual traveled a unique zig-zag road of ups and downs coming to America and eventually to the St. Spyridon parish. I too became emotionally attached. I became their voice, and I truly felt the weight on my shoulders to present their story as honest and real as possible.
One particular story will remain with me. For over a year I pursued our Greek School principal, who taught more than forty years at St. Spyridon and other neighboring parishes, to share her story but she denied it. What was it that she was afraid of or didn't want to share? I was so curious. Finally, we set up an interview. It was extremely uncomfortable for both of us. She sat across me stone-faced, clutching her purse and reminding me of Queen Elizabeth who is never without her purse. Slowly I could feel the ice melting as we spoke of her childhood in Greece, her dreams of attending school and university, her feelings of being told she couldn't continue higher learning because she was a woman. I felt her pain as she spoke. And I felt so proud of her determination and struggle to defy everyone and pursue her dream. As we continued speaking, I saw the grip on the handbag loosen as she put the bag to the side. Now at last, she felt comfortable and willing to share. The image of the stern stereotypical Greek School teacher of years ago now gave way to a beautiful woman who wanted better for herself and eventually realized her dream. Unbeknownst to her, we featured a lovely tribute of photographs in appreciation of this woman through the years at St. Spyridon. She was surprised and grateful.
Other impactful stories for me were the tributes to our past clergy. With Father Tilemahos' help we were able to highlight the beautiful achievements of all of our past clergy. It was important to show how each clergy led their parish during their time. Each clergyman had joyous occasions as well as struggles, but each stayed true to making sure their flock kept the Orthodox faith and the parish alive so that it may continue to grow for the next generation.
MK: I was wondering about how the community received the idea for the album. Was there any resistance or skepticism about it? If so, what were the reasons? How did you try to address these concerns?
KK: At first the community did not understand what this concept was all about. This novel approach to presenting a collection of personal stories and a well-researched historical account of the parish was difficult to grasp and visualize. They were accustomed to the traditional annual booklet of advertisements promoting the parishioners' businesses.
The key to the book's success was dependent on the marketing and promotion of the book. Every Sunday during the Coffee Social Hour after the Divine Liturgy, our committee had an information table explaining the book idea. We had large presentation boards showing early drafts of the cover of the book, an example of a submitted story, an example of a history page, an explanation of how much each page cost or a book alone. Our presence every Sunday was important so that our parishioners and friends of the parish realized this was going to be a huge undertaking. We also had announcements in our weekly church bulletin and monthly newsletter to spread the word. We also created a beautiful brochure with explanation of why it was important to participate in this one-hundred-year milestone, and why this is not an ad book or a yearbook, but a beautiful book for your library or coffee table to share with your family.
Peter Korbakes, Chair of the History Committee
MK: Please share with us your interest in this project. What motivated you to participate? What was your role as the Chair of the History Committee ?
PK: I grew up at Saint Spyridon and during my childhood and adolescence it was essentially my second home. I was at church from anywhere to 2-5 days a week throughout the school year. This community has truly been my family. Also, I am a third/fourth generation Greek American. Saint Spyridon was my paternal grandfather's childhood parish, it was where my maternal grandparents were married, and where both of my parents were baptized. Saint Spyridon has deep importance to my family. I saw this as an opportunity to give back using my skills as a historically trained person.
Our committee's job was to conduct research, gather historical artifacts and pictures to be featured in the album, and develop the narrative and structure of the history section. As the chair, I coordinated these efforts. I wrote and laid out the section. We are very proud of the work we've done. I think the album went beyond our expectations in many ways.
MK: You are a trained historian. Please, explain your studies. Did your scholarly background help you navigate your research of the community's history? How? Did you see the history of your community with different eyes than other members of your community? What historical questions did you ask ?
PK: I received my Master's in History Teaching and my Bachelor's in History and Classical Studies. My training did provide me with the necessary tools to craft such a decent historical narrative. Having gone to a public university whose history department has a strong emphasis on urban and labor history, I had some direct knowledge of archives that may have been unknown to the general public. For example, I was able to utilize the Foreign Language Press Survey at the Newberry Library to find some rare mentions of Saint Spyridon before 1940. A certain level of historical knowledge was necessary in order to develop the narrative and place St. Spyridon's story in historical context.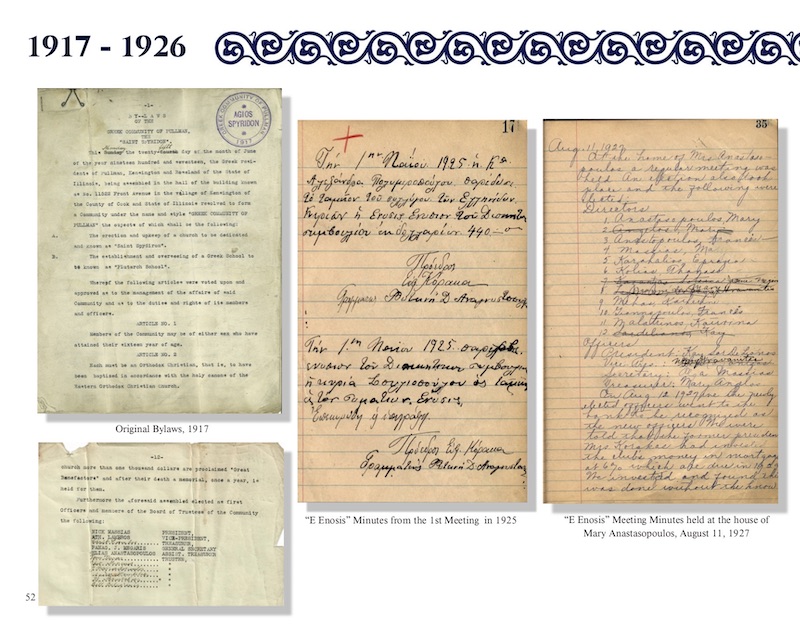 The community would be more interested in the stories of the overall "triumph" narrative, but I was more interested in constructing how the community looked like at various stages throughout the one-hundred-year history. What was the difference between the Greeks living in Roseland, in the 1910s and the 1920s and those living there in the 1950s and 1960s? How did this small, isolated community on the far southside of Chicago interact with the large Greek communities of Chicago? What businesses did they own? Where did they patronize? What was their view of Hellenism? How did it influence their life? What were the interactions of the children of the first wave of immigrants with the immigrants in the second wave? Unfortunately, I was not able to pursue some of these historical questions, but I think I was able to hint at it a little bit in the narrative.
MK: What sources did you use for this centennial album? Could you describe the process behind the archive hunting? Was there any particular archival material that was historically significant, but you had reasons to hesitate publishing?
PK: We used newspaper articles, oral histories, dinner dance albums, the original by-laws of the organization, parish council meeting minutes ranging from 1917 to the present, pictures, and a few Greek School report cards. The archive hunting process was grueling. At the National Hellenic Museum in the Leon Marinakos collection, after going through the entire archive of hundreds of boxes over a two-month period, we found the 9th Annual Dinner Dance Album of 1936 which was invaluable. I also used the Harold Washington Library Special Collections where I went through newspapers (The Greek Star) from the 1940s-1950s.
There was nothing controversial that I found in archival research, however there were some very tense Parish Council meetings and General Assemblies in the 1970s after the move from Roseland based on what I saw in Meeting Minutes. The infighting was very serious, and Diocese (now the Metropolis of Chicago) was, in fact, at the least not supportive and at the worst, counterproductive. I delicately touched on this in the album. The parish overcame this, and I thought it would not be helpful to reopen old wounds.
I wish I had the time to sit and analyze the ledgers which ranging all the way back to the 1940s. This would have been incredible to see how much people were donating each year and compare that to the average working-class immigrant during the time period. I'm sure many were spending a large part of their income to support the community. I have not seen an in-depth historical overview besides perhaps the Modesto, California album. Hopefully this motivates other parishes to do a sort of community archive like this and historical review.
MK: How do you think this research contributes to the understanding of your community? Why should the community, and the youth, care about the local past?
PK: The story of Saint Spyridon is the story of resilience and community. Despite the Great Depression, World War II, and moving away from their original home, this community survived and thrived. In the 1910s and 20s, our founders dedicated their lives to survival of their community. One woman died doing so. Sixty years later, during the rebuilding of the parish in the 1970s and 1980s, a handful of parishioners took mortgages on their home to ensure we had funds to complete the building of the parish. What dedication and love they had for their community, their religion, and their culture! Over a century later we have a Greek School with over 100 students, we celebrate the Divine Liturgy in Greek, and we are a community of more than 350 members strong. I think they would be proud and amazed to see how we've maintained Hellenism and Orthodoxy here on the Southside of Chicago for so long.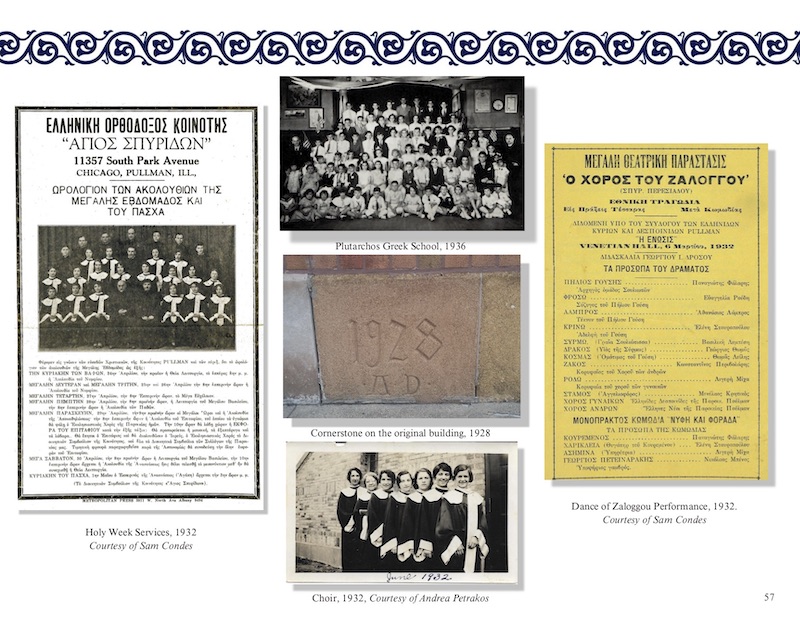 I'm so blessed that I've grown up around people with such grit and resilience. I would say we're unique, how many third or fourth generation Greek American families can say they're still actively connected with their culture and with Greece. As cliche as it sounds, understanding what our forebears went through to retain their customs, traditions, language, and worship is vital to the continuation of our community in the future. I'm an example of how this narrative inspires people. My research and understanding of the story motivated me to become a Parish Council Member.
Luckily, we had the support of Fr. Tilemahos Alikakos who saw this album as a great opportunity, as we did, otherwise I don't think we would have had the necessary support from leadership. We can pass on this album to our children and our children's children. This small piece of history will be preserved.
Further information about the St. Spyridon Community:
The St. Spyridon Greek Orthodox community was founded in Roseland, a remote area on the far southside of Chicago, Illinois, in 1917. It moved in Palos Heights, in the southwest suburbs of Chicago, in 1975. For more information about this history see the narrative by Peter C. Korbakes here.
The community's Golden Anniversary Dinner Dance (1978) is available in Ergon.